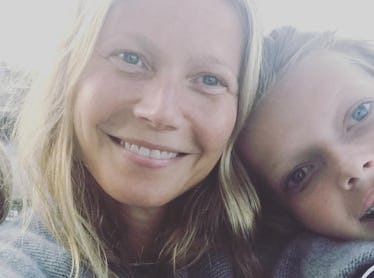 FYI: Gwyneth Paltrow & Her 14-Year-Old Daughter Apple Look Exactly Alike Now
Instagram / Gwyneth Paltrow
Gwyneth Paltrow would pass down her incredible genes, that goddess. The actress recently shared a picture for #NationalDaughtersDay on Instagram of herself and her daughter Apple, and it's uncanny how similar they look. The photo of Gwyneth Paltrow and Apple Martin is shocking at first, but makes sense when you think about it. I mean, if you had the face-symmetry of an angel and skin as soft as an ethereal dove, wouldn't you pass down those traits to your daughter, too? All hail Gwyn.
It seems like only yesterday Gwyneth Paltrow and ex-husband Chris Martin made headlines everywhere when they announced the arrival of their little girl, Apple. It was the first "unique celebrity baby name" I remember hearing about in my short life, but it would certainly not be the last. Based on Paltrow's photo, the Apple really didn't fall far from the tree. (Ugh, sorry.) The wild thing about kids is they can look exactly like both of their parents at the same time. For example, in Paltrow's photo, she and Apple share the same blue eyes, the same half smile, and the same face shape. But, if you put your hand over Gwyn's face and glance quickly at Apple, she sort of looks exactly like her dad, Chris Martin, too.
Check it out.
I know. It's a lot. In just two hours the photo gained nearly 200,000 likes and was quickly picked up by many media outlets all marveling at the similarities. Paltrow captioned the photo, "Happy #nationaldaughtersday Apple Martin, it's like i conjured you from a dream, you make my life."
If you try to find Apple on Instagram, you can't. Her parents have done a pretty good job keeping her and her brother, Moses, out of the public eye. But every now and then, Paltrow just can't help herself. Through her mom's Instagram feed, fans learned Apple is an inspiring dancer and musician.
Paltrow shared this stunning picture of her leaping in Summer 2017.
She also posted a gorgeous closeup of Apple for her 14th birthday in May. Paltrow gushed over her daughter in that caption, too, writing:
Happy birthday, my darling girl. You make everyday feel like Christmas morning. You are the most vibrant, hilarious, twirling all over the place, beautiful (inside and out) young woman. You are an amazing thinker and an incredible songwriter. Thanks for still hanging out with me, even though you are 14.
If you know anything about Gwyneth Paltrow you'll know that health is at the center of her universe. Her lifestyle brand Goop has a huge following and she's the quintessential example of someone aging backward. Still, her secret to health and wellness has nothing to do with what products she uses.
In 2017, she told People magazine, "I would say honestly every day what I do for my health is make sure that I really connect and hug my children and lie with them at night." She added,
Nothing fills me up more. They say that if you strengthen and amplify your family and love connections, it's the best thing for your health, so I always try to make sure that I do that every day. It's not hard — they're pretty cute!
Love. Love. Love.