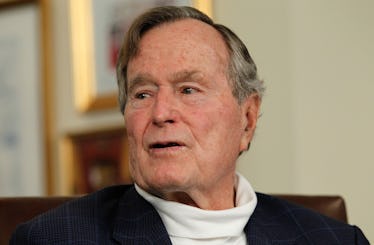 This Photo Of George H.W. Bush's Service Dog At His Casket Has Me Sobbing
Tom Pennington/Getty Images News/Getty Images
On Friday, Nov. 30, the 41st President of the United States George H.W. Bush died at the age of 94. Since, politicians, family, and close friends have grieved the loss of the former president through heartfelt messages and touching tributes. However, this photo of George H.W. Bush's service dog may be the most emotional homage yet. Get your tissues ready, people.
Late on Sunday, Dec. 2, photos surfaced of President Bush's service dog, Sully, laying in front of his casket. Until this moment I didn't realize I could be filled with so much heartbreak and overwhelming love at the same time, but this photo made that happen. According to CNN, Sully started working with Bush in June, and remained by his side until his passing. His duties included walking alongside Bush in his wheelchair and helping him with daily activities, per NPR. Best friend goals.
The 2-year-old yellow Labrador, which was trained as a service dog by America's VetDogs, was named after former airline pilot Chesley B. "Sully" Sullenberger III, who landed a damaged jet onto the Hudson river in 2009, saving its entire crew and all passengers. Even though Sully's job as Bush's service dog has come to an end, the yellow Labrador will reportedly be traveling with Bush's casket to Washington, D.C. for his memorial service on Wednesday, Dec. 5. After, Sully will head to Walter Reed National Military Medical Center to continue his service dog duties by working with wounded veterans.
Such a good boy.
It's safe to say that Sully was an important member of the Bush family during his service. So, in order to honor his companionship over the years, 43rd President George W. Bush took to Instagram to share the news that Sully would be moving to Walter Reed, and that he would miss him greatly. He wrote,
As much as our family is going to miss this dog, we're comforted to know that he'll bring the same joy to his new home, Walter Reed, that he brought to 41.
On Nov. 30, the Bush family's spokesperson, Jim McGrath, confirmed that Bush had died in Houston, Texas surrounded by his family. The president's health had been in jeopardy since 2012, when it was announced that Bush was dealing with complications from vascular parkinsonism. Then, in April 2018, McGrath released a statement that revealed Bush was admitted to the hospital with an infection that eventually led to sepsis. The news release read,
President Bush was admitted to the Houston Methodist Hospital yesterday morning after contracting an infection that spread to his blood. He is responding to treatments and appears to be recovering. We will issue additional updates as events warrant.
Through Bush's medical complications, Sully kept everyone up to date about all the goings-on concerning his time with the Bush family through his very own Instagram page. From walks with his "best friend" to get together with fellow dog pals, Sully's Instagram page is arguably the most important content on social media right now.
I mean, just look at this.
Bush's passing was an emotional blow to individuals all across the nation, but at least we can take heart that he was in good company until his final days. Thank you Bush, and Sully, for your dedicated service.