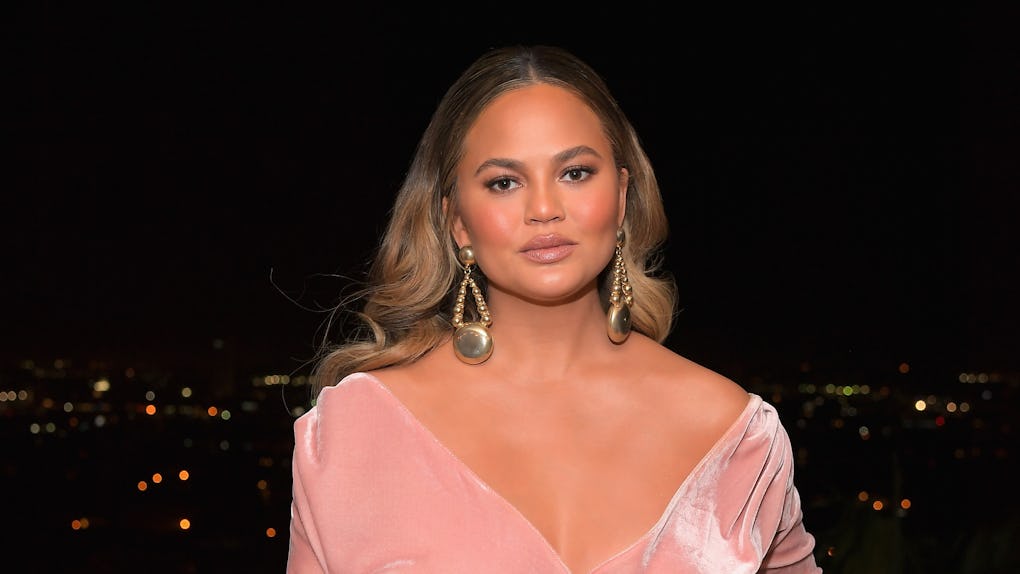 Charley Gallay/Getty Images Entertainment/Getty Images
This Photo Of Chrissy Teigen's Baby Bump Is The Cutest Thing You'll See All Day
Could there be anything more precious than knowing that Chrissy Teigen is expecting another baby? I submit that no, there is nothing more treasured than this news. We've already been #blessed with little Luna, and knowing that another Teigen-Legend baby is on the way is something I'm not even sure I can fully handle just yet. So when Chrissy Teigen shared a photo of her baby bump on Snapchat, I couldn't contain myself. I lost my damn mind, and you will too, because the photos are too pure for this world.
On Nov. 21, my world was rocked when Teigen announced that she was pregnant with her second child. She told her fans in quite possibly the cutest way ever: by hopping on Instagram to post a video of Luna snuggling up to Teigen's belly on the couch. When Teigen asked Luna what was in her tummy, Luna responded, "Baby!"
And, in true master-troll form, Teigen made sure to caption her pregnancy announcement with something punchy and jovial, letting the world know that her husband, John Legend, was in fact the father of her second child. Can we just bow down to the queen of beauty and comedy and beautiful children?
Of course when she made her announcement, fans inevitably freaked out, because ANOTHER ADORABLE BABY will soon be here for us to weep over:
Some just gave her props for being a hilarious, witty, smoke show of a mom:
So when Teigen finally started debuting her teeny baby bump, the world rejoiced. Chrissy Teigen looks perfect and flawless in pretty much every photo she's in, and now that she's pregnant again, it's clear that she has that pregnancy ~glow~, which many moms claim is typically chalked up to morning sickness and insomnia. Still, Teigen looks good and can pull off that "I've been nauseous for 48 hours straight" look like no other:
Hello, can someone say #pregnancygoals?
Teigen then graced us with even more pregnancy photos on her Snapchat, taken in Norway where she attended the Nobel Peace Prize banquet — which is where she wore that gorgeous long-sleeved gown to in the picture above. But her Snapchat photos had less to do with her killer wardrobe and more to do with her adorable belly-selfie.
She posted a photo of herself straight-on in a mirror, where it looks like she honestly isn't even pregnant. But right next to that photo is a selfie where she's turned to the side, and her baby belly is peeking right out. I don't even know her, yet the images bring tears to my eyes:
And with a growing baby bump, a lot of people are wondering if Teigen is having a boy or a girl, because obviously everyone is anxious to congratulate Luna on having a baby brother or sister.
While Teigen hasn't made any announcements confirming her second child's gender, she has been very vocal about her struggle with conceiving naturally. When being asked about having more kids while on the red carpet with Entertainment Tonight at the 28th Annual Producers Guild Awards back in January, Teigen said, "A little boy is next, for sure."
She took to Twitter to tell her fans that at the time, she was not pregnant, but that she and John have in fact saved an embryo:
But we won't know anything for sure until Teigen confirms it to her fans (undoubtedly in a way that will make the entire world laugh, because that girl is a comedic genius), so we're just going to have to patiently wait on that little piece of news.
In the meantime, I'm just going to keep looking at her most recent Snapchat, reminding myself that 2017 clearly wasn't all that bad.