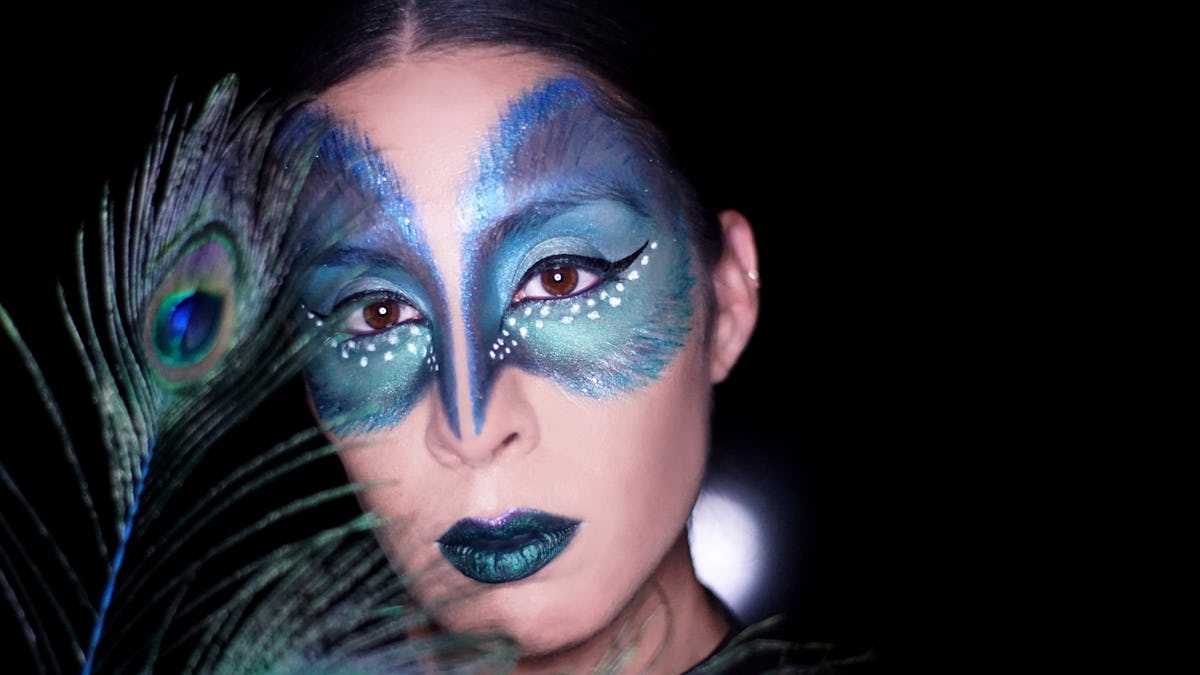 This Peacock Makeup Look Is So Good, You Won't Need To Buy A Costume
Stephanie Montes
For me, hands down the most exciting part about Halloween is the makeup. In fact, choosing my costume every year starts with makeup inspiration, then I work my way down to the actual outfit — this part is actually sort of an afterthought for me. So this year when I was deciding what to be for Halloween, I racked my brain for ways to incorporate a ton of color and sparkle on my face. Eventually, I came up with this peacock makeup tutorial and I'm bummed I didn't think of being this colorful bird sooner.
I began my look by focusing on my skin — here's where I apply a serum and moisturizer (this is an important step for me on days when I wear a lot of makeup), my primer, and foundation. I moved on to contour and really focused on chiseling my cheeks, but skipped the highlight (the best part is you don't even need concealer under your eyes here!).
After digging through my eyeshadow singles and sifting through eyeshadow palettes, I laid out a selection of all my blue, green, and purple shades. Wielding a blue eyeshadow stick, I mapped out the placement for my eye makeup. I went for a round shape at the top with a sharp, beak-like point at the nose.
Reaching for all my favorite green and blue shadows, I filled in the eye area. To get an ombre effect, I used the same brush (without wiping off in between colors) and blended each shade into the next. Using a fluffy brush in circular motions will also help you get that diffused look.
Eyeshadows used:
Tom Ford Shadow Extrême in TFX9 - Sapphire Blue ($36; sephora.com)
MAC Eye Shadow in Atlantic Blue ($17; maccosmetics.com)
Charlotte Tilbury Eyes To Mesmerise in Veruschka ($32; charlottetilbury.com)
Stila Vivid & Vibrant Eye Shadow Duo in Jade ($20; sephora.com)
Wet n Wild Fantasy Makers Color Icon Loose Pigment in Unicorn Wishes ($4; wetnwildbeauty.com)
Next, I drew on a dramatic cat eye using Sephora Collection Long-Lasting 12 HR Wear Eye Liner in Black ($12; sephora.com) and extended the wing at the inner corners of my eyes. To make my eyes pop, I added some dots along my under eyes with Kat Von D's 24-Hour Super Brow Long-Wear Pomade in White Out ($19; sephora.com) and the back of an eyeliner brush (this gives you a more symmetrical circle than the actual bristles.
To give my makeup look a feathered effect, I used gel eyeliners in different shades of blue and green and painted them on in quick upward strokes and a thin angled brush. To stick with the ombre effect that peacocks have, I stuck to blue feathering on the top half of my eyes and green shades under my eyes.
Tarte Clay Pot Waterproof Shadow Liner in Cobalt ($14; tartecosmetics.com)
MAC Pro Longwear Fluidline in Siahi ($18; ulta.com)
E.L.F. Cream Eyeliner in Teal Teast ($3; elfcosmetics.com)
Kat Von D's 24-Hour Super Brow Long-Wear Pomade in Lemmy Green ($19; sephora.com)
For some added dimension, I went back in with the blue shades from the Wet n Wild Fantasy Makers Paint Palette in Metallics ($6; wetnwildbeauty.com) and painted on stripes of glitter with Urban Decay's Heavy Metal Glitter Eyeliner in Spandex ($20; ulta.com).
Finally, I finished off my look with a metallic green lipstick. The Wet n Wild MegaLast Metallic Liquid Catsuit in Siren's Jewel ($5; wetnwild.com) was the perfect addition to my peacock eyes.
Since my makeup is over the top, I decided to add some peacock feathers to my hair (I bought these at a craft store) and dress in head-to-toe black. I'll just pair my Halloween makeup with some black skinny jeans, a black long-sleeve top and some heels. And after all that, the only thing I spent money on was the feathers. Score!