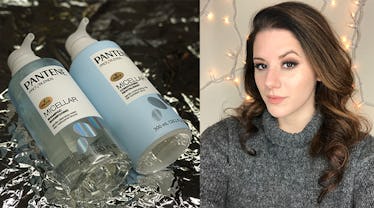 I Tried This $6 Micellar Water Shampoo & The French Fad Is Not Just For Your Face
Kim Carpluk
Micellar water is a staple in my lazy-girl skincare routine. The cult-favorite skin cleanser originated in France and couldn't be easier to use: just swipe across your face, and watch as makeup, dirt, and oil are gently lifted away. If you've been wondering if the smart water can also work wonders on your hair, this Pantene micellar shampoo review might have you running to the nearest Target before you even finish reading.
Micellar water deeply cleanses the skin without stripping away hydration. It is a water, after all. On those nights where you simply can't be bothered to peel yourself out of bed and cleanse off your beat, a simple bottle of micellar water and some cotton rounds will do the trick. No need to rinse the formula either. Simply apply your moisturizer and pass TF out.
Micellar water is a water (obvi) that contains tiny oil particles called micelles that penetrate deep within the skin and suck out dirt, oil, old makeup, and other makeup like a vacuum from deep within your pores. Sometimes for funzies, after showering, I'll swipe a cotton round soaked with micellar water across my "clean" skin, and the cotton round will turn straight up grey. It's amazing (and kind of gross) to see how much more dirt, pollution, and dead skin micellar water will pick up opposed to regular soaps and scrubs.
So naturally, when I heard that Pantene had released a Micellar Water Shampoo and a Micellar Water Conditioner, I obviously had to run home and try both.
Pantene Micellar Water Shampoo and Micellar Water Conditioner, $6, Target
I knew Micellar Water Shampoo wouldn't work the same as regular micellar water. I'd certainly have to rinse it out, so at best, I was hoping for an extremely deep clean that wouldn't strip my hair of hydration — the same result I expect from the skincare variety.
Pantene's iteration of Micellar Water also contains Pro-Vitamin B5, the brand's iconic hydrating ingredient, and antioxidants. It's silicone-free, paraben-free and dye-free (which my colored hygge hair was very thankful for). It's also pH balanced, so the natural state of your hair and scalp won't be disturbed.
My Before hair was very...gross.
My roots were full of oil and days of dry shampoo.
I started by wetting my hair (like the directions said) before thoroughly working the shampoo through my hair and on my scalp. I initially used two pumps of the shampoo, but TBH, I probably just needed one. It was sudsy to the max.
I scrubbed thoroughly through my strands and on my scalp before rinsing the shampoo out. Now here's the unbelievable part: the water rinsed grey. That's right. Just like the micellar water cotton round turns grey after use, my water was turning grey from how much dirt and product was being pulled out of my hair. I do live in New York City, and we are subject to the disgusting pollution that fills the air. However, with all the expensive shampoos, scrubs, conditioners, and treatments I use multiple times a week, I've never had the water rinse grey from my hair. It was both nauseating and thoroughly satisfying. After rinsing, my hair felt clean, but not too dry. Generally, when I use clarifying shampoos, my hair can get a little too clean and start to feel almost straw-like (not glam). Though it felt like I just shampooed my hair (as it should), my hair didn't feel as dried out as I would expect from a deep-cleaning shampoo.
The next step was to nourish my hair (and my soul) with Micellar conditioner. Since my hair is rather thirsty, I used quite a few pumps to properly hydrate my strands from the inside out. I applied the majority of the product to the ends of my hair, then worked up to my scalp.
I left it on for five minutes while I shaved my entire existence away (which tends to be my bathing routine). When I eventually rinsed, my hair was left hydrated and smooth, but super lightweight and fluffy. It felt weightless, which practically never happens after conditioning.
To give the shampoo and conditioner a fighting chance, I followed up with my usual leave-in styling products. Then I blow dried and curled my hair to see the true result.
Dude. I am impressed. Normally, when I cleanse my hair this deeply, I'm left a little frizzy. If I hydrate intensely, my hair tends to be weighed down. However, I managed to get the best of both worlds through the magic of micellar water.
If you have oily, fine hair (like myself), I highly recommend giving the Pantene Micellar Water Shampoo and Conditioner a try. The proof is in the pudding...er...water.