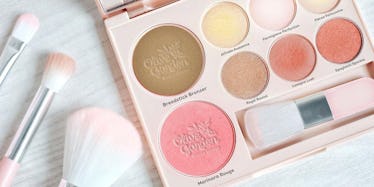 Twitter Is Losing It Over This Delectable Olive Garden Eyeshadow Palette
Move over, KKW Beauty. Step aside, Urban Decay, Too Faced, and Tarte. There's a new beauty mogul on tha scene that's poised to become an instant consumer favorite. That is, at least, a favorite of anyone who is a fan of Italian food. An Olive Garden palette — yes, you read that right! — was just teased on Twitter and it's honestly every pasta and red sauce lover's dream. Featuring an array of rosy summery hues with mouth watering names, it's a veritable beauty snack. Are you here for shadows from your favorite childhood restaurant chain? Because evidently Twitter very much is.
Yesterday, July 31, Olive Garden took to its (really funny) Twitter account to tease a new offering that just might have its unlimited soup, salad, and breadsticks deal beat: a pearly pink palette outfitted with six eyeshadow pans, a bronzer, and a blush. "Okay so you liked the subscription box," reads the post, referring to a box filled with its breadsticks that the chain teased earlier this month (no, it's unfortunately not a real thing). "... now what about a makeup palette?" Um, yeah! Send me a palette stat and throw in a box of those golden edible clouds why you're at it, why don't ya?
The best thing about the palette is that both the bronzer and blush are stamped with the Olive Garden logo. Because if you're buying something from a trendy luxury brand you want people to know where it's from when you're using it and the logo on the case isn't showing, amirite? The bronzer, a muddy nude that actually looks appropriately olive green, is called "Breadstick Bronzer," while the blush, a bubblegum pink, is named "Marinara Rouge." But wait, it gets way better. Each of the six eyeshadow shades feature similarly delicious names. There's "Alfredo Awesome," a shimmery peachy yellow; "Parmigiana Perfection," a shimmery light rose; "Fierce Fettucine," a cream (because of course); "Royal Ravioli," a shimmery bronze; "Lasagna Lush," a deep blush; and finally "Spaghetti Sparkle," a shimmery deep blush. It's a veritable feast in a little square compact and I want to try it immediately.
The thing is, the palette isn't actually real. Sorry to break your heart my fellow mozz-heads, but this is just another one of Olive Garden's cruel yet ingenious jokes. I know this because Jeffree Star himself commented, "Is this real???" on the post, to which Olive Garden replied, "It needs to be!" Once other Twitter users began commenting, the tomfoolery continued.
In one exchange, Olive Garden proposed a new lipstick to accompany the palette:
In another, the restaurant chain considers scratch and sniff beauty:
And it continues from there:
Who knew people would be so into Italian food-inspired beauty products?! Maybe Manic Panic founders Snooky and her sister Tish should add a few shades of dye into their hair color range named after pastas, sauces, and the like. In light of all the positive responses Olive Garden got to the post, I wouldn't be surprised if they did release a limited-edition palette, with a breadstick box as an optional add-on.