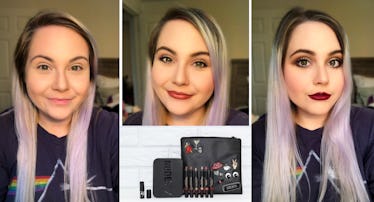 NUDESTIX's New Soft & Smokey Palette Makes Taking A Look From Day To Night So Easy — EXCLUSIVE
NUDESTIX // Theresa Massony
If you're on that all-day work grind and that ~party grind~, you know there's barely any time left at the end of the day to change your makeup look. But depending on your plans and your job, let's just say a full-on smoked-out eye and berry red lip may not be... work appropriate. Hey, you can't always have it all. Thankfully, that's where NUDESTIX's new Soft & Smoky Palette with YouTuber Melissa Alatorre comes in. When you have exactly 12 minutes between work and party time, the brand's newest collection will take you from #BabeBoss to #PartyBabe in 10 minutes — leaving you with exactly two minutes to just stare at yourself in the mirror because you'll look so damn good.
For their new Soft & Smoky Palette ($59, Sephora), NUDESTIX partnered up with beauty YouTube sensation, Melissa Alatorre, who boasts a cool 583K subscribers and 213K Instagram followers and also happens to be a huge fan of NUDESTIX already. "I fell in love with the brand a while back when I discovered their Magnetic Matte eye pencils and was using them in almost every single makeup tutorial," Alatorre tells Elite Daily. "It felt like the perfect match, partnering with a brand that I already genuinely loved and believed in and was using in my beauty routine daily."
NUDESTIX Co-founder Taylor Frankel tells Elite Daily that the purpose of the palette was to make switching up your makeup look mid-day as easy as possible — without having to take it all off. "The Soft & Smokey Palette includes four Magnetic Eye Colors in both Luminous and matte finishes that provide you with either a soft natural luminous eye look for Day, or a sultry party babe smokey Eye for night. Also, it includes two lips; one nude and one bold to quickly add a pop of Color if you're heading from the office to cocktails with girlfriends.
The palette, which comes in the cutest #BabeBoss kit, contains six NUDESTIX pencils in different colors, all curated by Alatorre, to give you everything you need for a daytime-appropriate nude look and a party-ready bolder look.
All in all, you've got two Magnetic Luminous Eye Colors ($24, Ulta) in the shades "Nudity" (a rose gold shimmer) and "Twilight" (a cool-toned light brown shimmer), two Magnetic Matte Eye Colors ($24, Ulta) in the shades "Taupe" (self-explanatory) and "Chocolate" (also self-explanatory), and finally, two Intense Matte Lip + Cheek Pencils ($24, Ulta) in the shades "Purity" (a pinky nude) and "Raven" (a dark berry). You're literally getting six full-size pencils, which would normally retail for $144, for only $59. That's a deal if I ever heard of one.
In terms of how she went about curating the shades offered in the palette, Alatorre says she wanted this collection to be a "no-brainer." "When you look at it [the palette], there isn't a single shade that doesn't play well with the others. We all have those palettes that have that ONE eyeshadow that goes untouched because you simply don't know what to do with it," she explains. "With these six pencils the possibilities are endless whether you want a daytime look, evening look, cool- or warm-toned look — it's all there!"
I was lucky enough to get my hands on this bad boy of a palette to try it out for myself, and I'm gonna be real: I haven't stopped feelin' myself since. No, really, try to stop me from staring at myself and making kissy faces in my mirror, I DARE YOU.
Now, when it came to creating my first ~soft~ look to start the day, I began with a fresh base of foundation, concealer, and a soft contour, blending it all out until I looked like the cutest naked mole rat. Brace yourself.
Then, it was go time. First, I went in with the shade "Nudity," using the pencil directly all over my eyelid and then using a brush to smudge and soften the edges. Next, I made a few marks with the shade "Taupe" in my crease to give my eye some depth, again, taking a fluffy, yet dense brush to blend the pencil marks throughout my crease. I also smudged a little "Taupe" under my eye.
When it comes to blush, I tend to be pretty red already, so I made very soft marks on my cheek with the shade "Purity" and blended it into the apples of my cheeks, using a makeup sponge to really buff it out for a nice, natural-looking rosiness. Finally, I swiped "Purity" over my lips, mascara-ed until I couldn't mascara anymore, and voila! Ready to go in no time.
All right, all right, so this soft look was stunning and all for the daytime, but let's get to the good stuff. If I had to describe my own preferred makeup taste in a few words, it would be "definitely not soft." Nothing wrong with a nice nude look, I just prefer to go big or go home, you feel me?
To transform myself into a #PartyBabe ready to go hard for about two hours and 30 minutes and still go to bed at a decent hour because I love sleeping, I really wanted to put the Soft & Smokey Palette to the test — the 10-minute test. I looked at the clock: 6:13 p.m. I had until 6:23 p.m. to make my face super sultry, and I'll admit, I was a little skeptical. I'm nothing if not a perfectionist, so I spend a lot of time on my makeup. But anyway, enough of my antics; here's how things shook out.
Before getting started, I took into account what Alatorre says is the most important thing to remember when taking a look from day to night: "It does NOT have to be complicated and require a million steps or hours. It is as simple as adding a bold lip or smoking out your eyeshadow." Because being extra is coded in my DNA, I vowed to do both.
I started by swiping just a little bit of the shade "Twilight" right on top of my lid and immediately blending out with a brush. Then, I took the shade "Chocolate," and followed the same routine for my crease and under-eye as I did in the previous look, except this time, I smoked out my under-eye just a teensy bit more, because I wanted to be the sultriest betch I've ever been. Time check: 6:19 p.m. With no time to spare, I dabbed the tiniest bit of "Raven" near my cheekbones to deepen my blush look and blended with my fingers. Finally, at 6:22 p.m., I had just finished swiping "Raven" onto my lips as well.
WHO'S THE SULTRIEST BETCH OF THEM ALL? THIS GIRL, IN UNDER 10 MINUTES. WHO IS SHE???
Just to get another look at this transformation, use the swipe tool below:
With a dreamy, creamy, waterproof, tear-proof, and budge-proof formula made to last for 24 hours and dry super quickly, these NUDESTIX pencils really are some of the easiest tools I've ever used. No kidding, I've created the exact same look using several eyeshadows, powders, and lip products, only to have it take a lot longer than 10 minutes. Not to mention, the pencils are vegan, cruelty-free, preservative-free, gluten-free, and fragrance-free, and the kit comes with a mirror as well, so you can change your look anywhere.
We all have #BabeBoss and #PartyBabe in us, and we should feel free to bring 'em both out to play. So you can snag the NUDESTIX Soft & Smokey Palette over at nudestix.com to get you a kit that can do both.