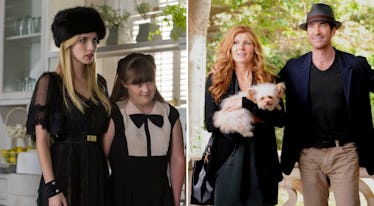 'AHS: Apocalypse' Brings The Coven Into The Murder House In This New Photo
FX
The coven is moving into the Murder House, and nobody is safe. Months ago, American Horror Story mastermind Ryan Murphy revealed that the upcoming season, Apocalypse, would be a crossover between past seasons Murder House and Coven. Since then, Murphy has confirmed the return of pretty much every major character in both of those seasons in the new one, but fans still don't know how exactly the two worlds will cross over... until now that is. Murphy just posted a new AHS: Apocalypse pic that finally shows Coven and Murder House crossing over.
On Tuesday afternoon, Ryan Murphy gave fans a first look at American Horror Story: Apocalypse with a photo of Coven favorite Madison Montgomery (Emma Roberts) hanging out at the iconic Murder House from Season 1. The new photo is exciting for a number of reasons. First of all, this is the first time that we are getting a glimpse at Coven and Murder House actually crossing over with one another. But even more importantly, the photo may confirm that Madison Montgomery does in fact have some sort of relation to Charles and Nora Montgomery, the cursed couple who built and first owned the Montgomery Mansion that later became the Murder House nearly a century ago.
Due to their last names, a number of American Horror Story fans had already made guesses about Madison Montgomery possibly being a distant relative of the Montgomery family that built the Murder House, but since Coven ended without bringing the Murder House up, it seemed like we would not get a clear answer. But now, it looks like Apocalypse will finally confirm this cursed family connection.
Oh, and you probably notice some other interesting details about this new photo as well. It looks like Madison is digging up the bones of everyone who was killed at Murder House, which would finally set their spirits free if transported off the property. Madison is also holding a feather duster in the pic, which seems to suggest she may be looking for one body in particular: the age-shifting maid Moira O'Hara, played by both Frances Conroy and Alexandra Breckenridge.
But Ryan Murphy was not done revealing new Apocalypse details just yet. After posting the Madison Montgomery pic, Murphy also broke the news that Murder House's resident mass murderer/ghost Tate Langdon would return in the new season. Murphy shared a pic of Evan Peters as Tate back on the Murder House set to confirm the return.
Tate Langdon's return is the latest in a string of Murder House characters being confirmed for the new season. Ryan Murphy has also confirmed that Jessica Lange will return as Tate's mother Constance Langdon, Sarah Paulson will bring back her psychic Billie Dean Howard, and Connie Britton and Dylan McDermott will be reprising their roles as the Murder House's most recent victims Vivien and Ben Harmon. In addition, Cody Fern will play a grown-up version of Vivien and Tate's antichrist child Michael Langdon.
On the Coven side of things, Emma Roberts will return as Madison Montgomery, alongside Taissa Farmiga, Gabourey Sidibe, Lily Rabe, Frances Conroy, Sarah Paulson, and Stevie Nix as their Coven characters.
American Horror Story: Apocalypse will premiere on FX on Wednesday, Sept. 12.