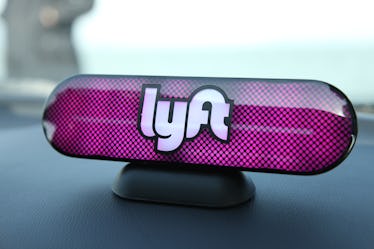 This Lyft Discount Is Perfect For New Year's Eve If You Don't Want To Drive
Kelly Sullivan/Getty Images Entertainment/Getty Images
Whether your New Years Eve plans include partying at a club, bar hopping, or just getting together with some friends, it's widely known that public transportation on NYE is absolutely abominable. Between smelly, awful subways full of tourists, ridiculously jacked-up cab prices, and trying to decide who's going to be the DD, any amount of travel beyond walking is seriously a disaster. However, the good news is that Lyft is giving discounts for New Years Eve to prevent drunk driving for its "Give a Damn" campaign, and it's literally the life-saving holiday miracle we've all been asking for.
On one of the greatest and most-chaotic evenings of the year, we totally understand that getting pretty much anywhere can be a literal nightmare. But in all honesty, unless you're hosting your own shindig, leaving your home on NYE is totally worth it. Stepping into the new year surrounded by loved ones is the absolute perfect celebration, whether your plans are wild and crazy, or chill and relaxed.
Since driving safely on your own might not be an option, Lyft has teamed up with Budweiser this holiday season to offer 150,000 round-trip Lyft rides. According to a press release sent to Elite Daily, passengers will be able to receive two $10 vouchers for their beautiful, romantic, and wild NYE adventures beginning at 2 p.m. ET on Thursday, Dec. 28 — and those vouchers will be redeemable throughout the entire weekend. Pretty sweet, right?
According to the press release, Budweiser launched Give a Damn this past September to make a statement against drunk driving, and to celebrate those who live by their message: "Give A Damn. Don't Drive Drunk." The 15-week campaign has been going on every Thursday — and until the end of the year, Budweiser and Lyft are offering 10,000 more round trip rides throughout nine states: New York, Colorado, Illinois, Florida, Massachusetts, Pennsylvania, Missouri, Texas, Georgia, and Washington D.C. Katja Zastrow, vice president of corporate social responsibility & better world at Anheuser-Busch said in the press release,
We are proud to continue our partnership with Lyft to implement evidence-based solutions that can have a real impact on reducing drunk driving. Making it home safe at the end of the night starts with getting a ride at the beginning of the night, so we want to encourage people to plan ahead.
Discounts are redeemable through a ride code, which is shared on Budweiser's Facebook and Instagram channels at 2 p.m. ET every Thursday. New and experienced Lyft app users over the age of 21 will then be able to claim a $20 ride credit (two $10 one-way rides) through the app. Credits are redeemable for any rides taken between 5 p.m. and 5 a.m. that Thursday, Friday, or Saturday evening. However, for New Year's Eve, the deal will be available through 5 a.m. on Monday, Jan. 1. Melissa Waters, VP of marketing at Lyft, is beyond proud of their partnership with Bud. In the press release, she said,
We are thrilled to work with Budweiser, a brand that shares our commitment to helping people drink responsibly and get home safe. This partnership encourages passengers to make the right choice about how they get home and celebrates the drivers who make it possible.
To commemorate their partnership with Lyft, Budweiser released a video spot which it's appropriately titled "Give A Damn." Happy to celebrate its partnership with Lyft, Budweiser wants to recognize the people who think quickly and plan ahead to get around during and after their evenings out. This ad will remain on Budweiser's social media until the beginning of next year.
Regardless if you're having a relaxing night at a friend's house or if you're tearing up the town, Lyft has your back this upcoming NYE with two $10-off vouchers. So make sure you log onto Budweiser's social media channels on Thursday, Dec. 28, because your safety and your wallet definitely won't regret it.
Check out the entire Gen Why series and other videos on Facebook and the Bustle app across Apple TV, Roku, and Amazon Fire TV.