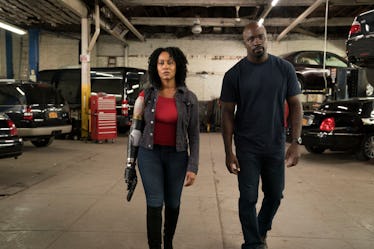 This 'Luke Cage' Season 2 Clip Will Give You Serious Badass Girl Power Vibes
Netflix
Marvel is having a banner year. Ever since February, they have had a hit release a month, starting with Black Panther, then Jessica Jones on Netflix in March, Avengers: Infinity War in April, Deadpool 2 in May (via FOX) and now Luke Cage in June. Moreover, Luke Cage's second season looks to be taking a bit of a tip from Black Panther and playing up their strong women of color alongside the men. This newest Luke Cage Season 2 clip reminds everyone Cage might be bulletproof, but Misty Knight ain't no one to mess with either.
Unlike Jessica Jones, which barely seemed to reference the events of The Defenders last year, Misty Knight came out of the ordeal forever changed, having lost her right arm. This means Luke Cage will be tied back tighter to the crossover aspect of the Netflix Marvel world, as Misty's replacement arm was designed, bought, and paid for by Danny Rand from Iron Fist.
Speaking of Iron Fist, that's where Knight's partner in this clip comes from. Colleen Wing was arguably the best part of the Rand Enterprise-focused standalone (often times outshining the titular Danny.) From the looks of the clip, Wing is crossing over as well, doing what she can to help train up Knight now that she has to learn to fight differently.
Check it out:
According to the release, which accompanied this YouTube video:
In season two of Marvel's Luke Cage (premiering June 22), Misty Knight grapples with the loss of her arm. She feels powerless and alone, but she's not. She finds solace in a friend, Colleen Wing, who (with some tough love) inspires Misty to reclaim her power...
Colleen Wing's teaming up with Knight isn't just for funsies, though. Luke Cage, Jessica Jones, and Daredevil were all very popular upon their release. Iron Fist, on the other hand, was a rank disaster. The original concept, which was a whitewashed Asian kung-fu character from the 1970s, was already problematic, but a really well-acted, thoughtfully-envisioned show might have been able to find a way over that hump. Instead, critics panned the show as lifeless, especially lead actor, Finn Jones. Fans made fun of the character, a problem which carried over to The Defenders.
But Netflix greenlit a second season anyway, and now they have to find a way to rehabilitate the character ahead of Iron Fist 2. Luke Cage will have his own battles to fight this season against powered adversaries like Bushmaster (Mustafa Shakir), but he's also going to have to help carry Rand into fans' good graces, a task which is just as herculean.
Cage showrunner Cheo Coker believes bringing Rand and Wing into the world of Harlem will do both a world of good. Speaking to CinemaBlend, he said:
It doesn't bother me that people have criticized Iron Fist on his series and on The Defenders. I'm arrogant enough to think that Iron Fist appearing on our show has a different sensibility. And so, it's like — that's the thing — I'm not dissuaded by that because Iron Fist, I think, is a dope character. And I think when you see Iron Fist within the realm of Luke Cage, and the way that we do things, I think — hopefully — that people are going to come to appreciate the character differently, and hopefully that swagger that he'll get from appearing in the Luke Cage universe will carry over into [Iron Fist Season 2].
Fans will have no worries about Colleen. She and Misty look like they'll be getting along just fine. If Iron Fist doesn't make it past the second season, perhaps Knight will have a space for Wing on her team.
All 13 episodes of Luke Cage Season 2 arrive on Netflix on Friday, June 22, 2018.