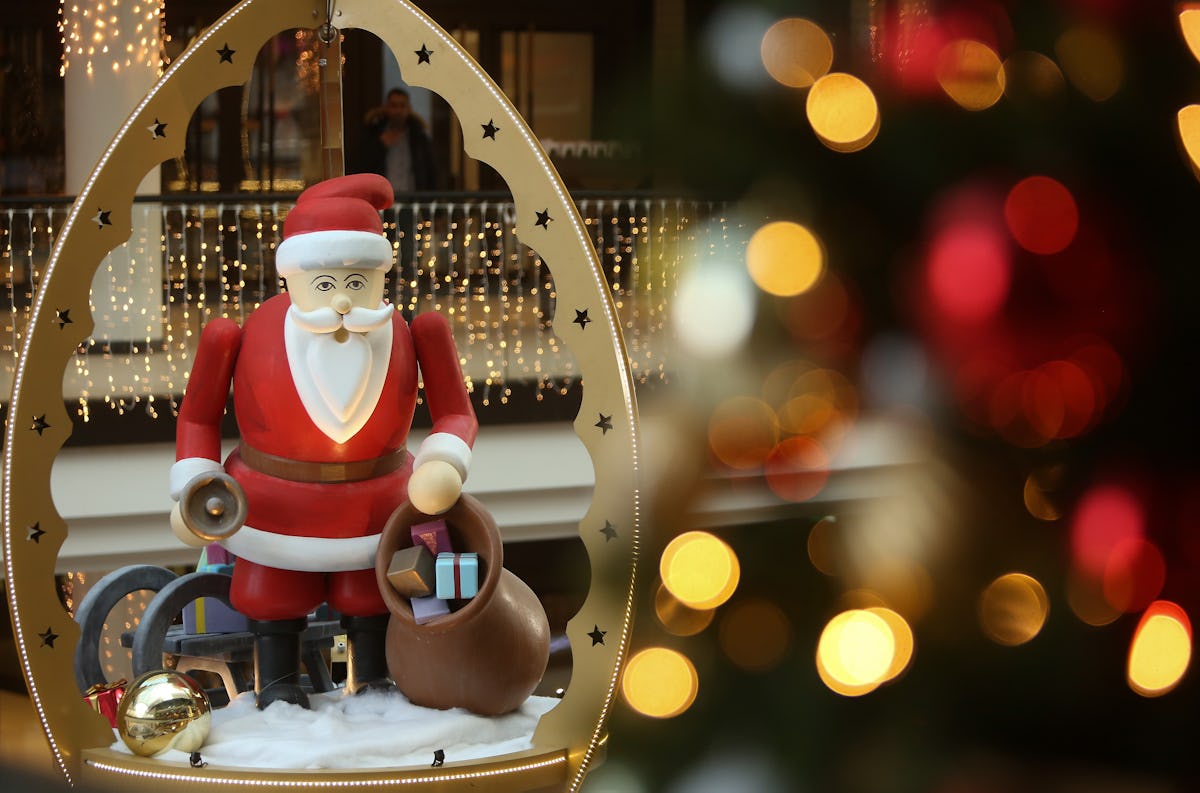 This 6-Year-Old Skeptic's Hysterical Letter To Santa Is Totally Relatable
Adam Berry/Getty Images News/Getty Images
It's that time of year when all the kids who want to get on Santa's "nice" list pen their Christmas letters to the the man residing at the North Pole. Most children detail what presents they want or what they've done to deserve staying off the "naughty" list this year, but one young boy took a different approach. This letter to Santa from a skeptical six-year-old is making its way around Twitter, and a lot of people are relating to it.
Sarah McCammon, who, according to her Twitter profile, is an NPR reporter in the Southeast and Mid-Atlantic regions, posted a picture of her son's letter to Santa on Sunday, Dec. 3. She captioned the picture of the letter with, "My 6 year-old Santa skeptic was told to write a letter to Santa at school. So he did..." The tone of the letter is definitely in-line with someone who might not be so sure about this whole "Santa" thing.
The handwritten letter on lined paper is a little difficult to read, so McCammon did the due diligence of transcribing it for her Twitter followers. The content of the letter gives Santa a less-than-warm reception.
Here is the letter from McCammon's six-year-old skeptic.
In the letter, McCammon's son tells Santa that he is only writing because he has to do it for class. He also says that he knows Santa's naughty and nice lists are empty, and he goes on to further say to Santa, "Your life is empty." He concludes by sharing that Santa doesn't "know the trouble I've had in my life." And then he ever-so-sweetly closes with "Love, I'm not telling you my name."
Honestly, I'm kind of jealous that I didn't perfect this kind of savage cynicism at age six. "Your life is empty" is pretty much the perfect clapback for any occasion.
From the looks of this letter, I don't think Santa should count on having any milk and cookies left out for him by McCammon's son on Christmas Eve. Even though he tells Santa that his "life is empty" and refused to sign his name, he still adds a festive touch with the wreaths and skulls, McCammon denotes as his "margin art."
Once the letter began making its way around Twitter, the responses came rolling in. Many people found his letter hilarious, while others shared similar stories.
Apparently, young skeptics who "do not like to share personal details" are more common than you'd think.
That response coming from a second-grader is quite impressive, TBH.
This letter could give way to a Johnny Cash-esque Christmas tune.
All he needs is a black suit and some shades.
People really got the country-song vibe from it.
Maybe he can pitch it to newly-crowned People's Sexiest Man Alive Blake Shelton.
This scene from Elf could double as a Cliff's Notes version of the letter.
Throne. Of. Lies.
A veteran skeptic gave him due props.
As a kid, @FelixFardo questioned Santa's elves and their toy-making abilities.
The artwork is as well thought-out as the message.
Wreaths say "holly-jolly," while skulls convey a more serious tone.
2017 hasn't really been a piece of cake, so this letter is very understandable.
Everybody can relate to this kid.
Perhaps this kid tapped into the darker side of Santa.
"A single tear courses down his face."
Whatever the impetus was for McCammon's son to write this unique letter to Santa, it definitely rang true with others who weren't fully believing in the legitimacy of Santa and his accepted methods of providing presents on Christmas. Maybe the kid was just having a rough day, or maybe the whole idea of a Santa climbing down your chimney while parking his reindeer on the rooftop just sounded a little bit too far-fetched for him.
Santa Claus or not, the holiday season is upon us, and while that can include chuckling over (and relating to) this angsty letter to Santa, you can also partake in some more traditional cheery activities as well.
Of course, the traditional story of Santa Claus and Christmas becomes more folklore than reality as you get older, but this kid sniffed out the faux facts much earlier than most. But hey, at least his wreath-drawing game is on point.
Check out the entire Gen Why series and other videos on Facebook and the Bustle app across Apple TV, Roku, and Amazon Fire TV.