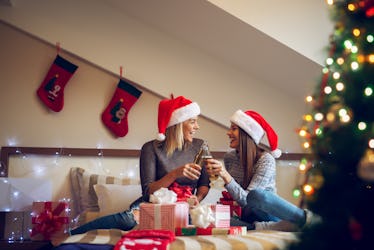 8 Things To Do On Christmas With Your BFF That'll Bring On The Holiday Cheer
Every day with your best friend is like a holiday, but spending an actual holiday with your bestie can be a memory you'll never want to forget. Your BFF is practically family, so it just makes sense that you would want to share this special time of year with her, and you can make this Christmas an epic one to remember by doing all of the best holiday activities you can think of. It's not all about opening presents, there are so many things to do on Christmas with your best friend. There's ice skating, baking cookies, Christmas lights, and so much more. Just like Santa, you should make a list of the perfect holiday bucket list of all the festive activities you can think of, check it twice, and then cross everything off of it.
You could always copy Buddy the Elf's ambitious list from Elf of making snow angels for two hours, ice skating, eating a whole roll of Toll House cookie dough, and then snuggling. Or, you can make your own. It's like a choose your own Christmas adventure when looking at these eight holiday activities you could be doing. Whatever you and your bestie decide to do, I hope you have one epic Christmas that you'll never forget.