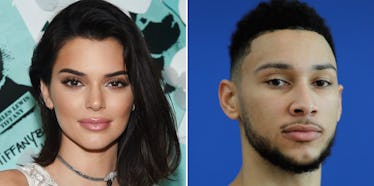 Kendall Jenner & Ben Simmons May Be Getting Serious, But Things Are Still So Confusing
Jamie McCarthy/Elsa/Getty Images
Kendall Jenner and Ben Simmons seem to be getting closer and closer. While the pair isn't officially together, this Kendall Jenner and Ben Simmons relationship update shows that this pair apparently can't get enough of each other lately. According to Us Weekly, Jenner and Simmons are attached at the hip. A source told the outlet that Jenner and Simmons "are still hanging out quite a bit," adding that "they are pretty inseparable at the moment and are still going really strong." According to the source, the two are at the exclusive phase in their relationship, but they're not officially together just yet. Elite Daily reached out to Jenner and Simmons' teams for comment on this report, but did not hear back by the time of publication.
Most recently, it was reported that they could possibly be living together at a rental house in Los Angeles. TMZ reported that the two had been seen coming and going from the same house in L.A. frequently over the last few weeks. The house is reportedly being rented by Jenner while she waits for her new house in Beverly Hills to finish its renovations. Elite Daily reached out to Jenner and Simmons' teams at the time for comment on the rumors that they are living together, but did not hear back by the time of publication. Based on this new report, however, I'd say it's more likely that the two are just hanging out a lot at the house, not living there together.
Dia Dipasupil/Getty Images Entertainment/Getty Images
Allen Berezovsky/Getty Images Entertainment/Getty Images
On June 9, just before Kanye West's birthday party, Jenner and Simmons were seen shopping together and were apparently quite literally attached at the hip the whole time. A source told E! News,
Kendall spent the day with Ben Simmons. They went shopping together at Barneys New York in Beverly Hills. They were inside for about an hour. Kendall helped Ben look in the men's department and she stood with him at the register as he made his purchase.
They continued, "She picked up some stuff and he went along with her down to the women's section. They were cute together and casual. They walked with their shoulders touching and were smiling and laughing."
Us Weekly notes that while the two are reportedly really into each other, they're keeping things casual (yet exclusive) for now because Jenner's work schedule doesn't allow for anything else. "Her work and travel schedule is pretty insane," the source said, "so for her to commit to anyone at this point in time isn't necessarily realistic."
Another source told the outlet earlier in June that she's "still casually seeing Ben Simmons" and that "she's being young and having fun." They continued, "There's no pretense to anything and no label on her and Ben. She's just living life with no commitments."
Before this, Jenner was rumored to have a thing going on with Gigi and Bella Hadid's brother, Anwar Hadid, after they were seemingly spotted making out on a night out together. Elite Daily reached out to Jenner and Hadid's teams for comment at the time, but did not hear back by the time of publication. It seems this reported fling was just rumors and Jenner is very much with Simmons (whom she started dating before Hadid), but a source told Entertainment Tonight at the time, "Kendall is best friends with Anwar's sisters, Gigi and Bella, and she respects them tremendously." They continued,
Kendall would never want to do anything to put her relationship with Anwar's sisters in jeopardy. Kendall and Anwar have known each other for years and have always been flirtatious and this is just another sign of that. The two enjoy one another's company and things could change, but for now, it's nothing serious.
To any Kanwar shippers out there, sorry to burst your bubble, but it looks like Jenner and Simmons are the real deal here.