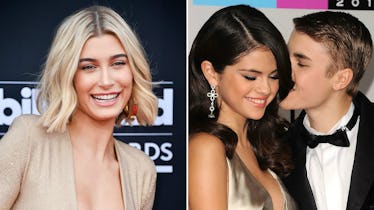 This Justin Bieber & Hailey Baldwin Relationship Update Could Be Why Jelena Didn't Work Out
Frazer Harrison & Jason Merritt/Getty Images Entertainment/Getty Images
I have to be honest with my Selenators, I am on the Justin Bieber/Hailey Baldwin train and I am not looking back. Beiber's engagement to the model came fast and furious in the wake of their rekindled romance, leaving some fans feeling shocked, and a little tricked. Like, what about all of those Jelena years? What about all those songs you wrote about each other? What about the fact you were basically just together? Well, it looks like there might be a reason for it all going to hell in a handbasket. This Justin Bieber and Hailey Baldwin relationship update could be why Jelena didn't work out, and I'm not mad about it. There. I said it.
Don't get me wrong, I love Selena Gomez but, based on new reports, it's clear she and Bieber simply weren't the ones for each other. Instead, fate was working to bring Baldwin and Bieber together all along. A source told Entertainment Tonight that Bieber has "never been so happy" than he is with his new fiancée, and it sounds like feeling secure is the best part. The source continued, "Justin is in a really good place, and has been telling friends he's never felt more sure about a woman in his life. Justin is head over heels in love with Hailey." Elite Daily reached out to Bieber's team about the report, but did not hear back by the time of publication.
Anyway, sometimes, when I feel sad, I like to read what Bieber had to say about Baldwin in his engagement confirmation post on Instagram. Ya know, just to keep things moving.
Bieber wrote:
You are the love of my life Hailey Baldwin and I wouldn't want to spend it with anybody else. You make me so much better and we compliment each other so well!! Can't wait for the best season of life yet!. It's funny because now with you everything seems to make sense! The thing I am most excited for is that my little brother and sister get to see another healthy stable marriage and look for the same!!!
"Now with you everything seems to make sense..." — Romance is not dead, y'all!
In hindsight (and as a total outsider) it does seem like there was some sort of invisible barrier keeping Bieber and Gomez from really finding true bliss together. But, based on Gomez's response to the engagement and Bieber's clear new state of mind, they're both better off. According to the insider, Baldwin and Bieber found their organic connection over time. The insider said, "Justin and Hailey get along great, are on the same page about their faith and what they both want out of their future together. It took some time for Justin and Hailey to get back together, but the couple knows it was worth the wait," adding, "Justin and Hailey can't wait to be husband and wife."
I can't wait either. I don't know why I care so much. I wish the whole thing would be televised. Etc. Etc. You guys get it.
Check out the entire Gen Why series and other videos on Facebook and the Bustle app across Apple TV, Roku, and Amazon Fire TV.
up. Clearly.