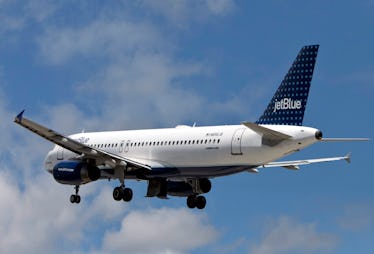 This JetBlue Sale Can Get You To The Caribbean For $54, But You Have To Act Fast
Allison Joyce/Getty Images News/Getty Images
With gross winter weather sweeping across half of the country, it might seem like there's no better time to take a vacation than right now. To make matters worse, it doesn't help when there are tons of tropical paradises on your Instagram feed that make you so envious that you can't help but wish you had money to afford your next dream vacation. Fortunately, this JetBlue flash sale is offering up some pretty cheap travel deals, so you should get ready to back your bags.
The deal includes destinations from all over the country, departing from cities such as West Palm Beach, Washington D.C., Seattle, Tampa, Chicago, and San Francisco, according to JetBlue's website. Some of its sweetest deals will land you in places such as Turks and Caicos, Bermuda, New York, Fort Lauderdale, and Las Vegas, starting as low as $34 one-way. Plus, the fares include government taxes and fees. Like, where do I sign up?
With these kinds of deals — that are literally hundreds of dollars off from regular-priced tickets, BTW — you might want to get your passport and luggage ready. There is, however, just one thing you need to know before you do: The deal ends Jan. 24 at 11:59 p.m. ET, so if you want to take a trip, you've gotta act fast. Another important factor to consider is that blackout dates do apply, so plan your trip accordingly.
According to JetBlue's website, customers have to take their trip between Feb. 6 and May 23 — perfect for Valentine's Day, spring break, and Cinco De Mayo celebrations. The cheapest flights are only available for Tuesday and Wednesday departures, so, if you have that availability, you'll save some extra cash (and can bring us back a souvenir). Don't have that flexibility? No worries. You'll still find pretty amazing, budget-friendly deals you can't beat!
If you're somehow still not convinced, here are a few breathtaking deals to get you motivated.
Not sure if you're ready to take the plunge? Let me remind you that JetBlue offered a similar sale two weeks ago, but these tickets are even cheaper than before — what more could you ask for? I mean, just think of the possibilities.
If you want to book a romantic getaway with your boo that you'll never forget, JetBlue has one-way tickets to Turks and Caicos for $54. The islands are just southeast of the Bahamas and are home to unforgettable experiences such as idyllic beaches, eccentric art galleries, water sports, tons of exotic restaurants and more. Just make sure you don't get too comfortable and forget to buy a ticket back home.
Or if beach and sun isn't your thing, there's always Sin City itself. Las Vegas is famous for its vibrant nightlife, and you can grab a flight there for as low as $44. Ready to sip some cocktails while trying your hand at blackjack? You'll love Vegas and all it has to offer.
Or if even that's not enough for you, you can check out the mother of all parties — why not celebrate Mardi Gras in New Orleans on Feb. 13? Flights are as low as $49, which is totally worth the delicious food and fun festivities you'll encounter. Even if you can't make Mardi Gras, you can pretty much experience similar celebrations throughout the year, which makes New Orleans a prime destination for any occasion.
For these prices, you're guaranteed to have a good time wherever you go.
Want to go on a family vacation? Try Orlando. Been putting off a girls trip? Hello, West Palm Beach! Have an anniversary coming up? Your spouse might love Bermuda! Craving some shopping? You can never go wrong with New York or Chicago! Whatever your interests are or wherever you want to go, there's probably a cheap flight waiting to be claimed.
If you've been sitting around daydreaming about piña coladas and cool waves of air hitting your skin, you can finally make that a reality by taking advantage of this sweet flash sale. Remember, you have until midnight on Wednesday to book your trip so you better go ahead and grab your tickets before they sell out!
Happy traveling!