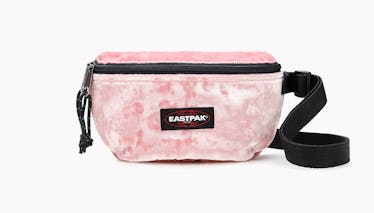 J. Crew x Eastpak's Pink Velvet Fanny Packs Are '90s AF & Nostalgia Looks Good
J. Crew
As has been proven by the teaming up of Crocs and Balenciaga, Louis Vuitton and Supreme, and DHL and Vetements, no fashion collaboration is off-limits. While covetable, the aforementioned joint ventures aren't exactly affordable, which is where the just-dropped J. Crew x Eastpak collaboration comes into play. It's got that same ironic twist to it as the others (Eastpak? Cool again? WTF!) but with a significantly lower price tag and higher wearability, so get excited to throw it back to the nineties with some brand new bags.
I definitely remember toting around an Eastpak backpack during middle school, complete with a tangled mass of keychains hanging from one of its zippers. Aside from maybe Jansport, the brand was the supplier of sporty satchels back then. To hear that it's once again in style isn't actually that surprising — after all, we're going through somewhat of a sartorial renaissance when it comes to retro brands, but it does bring about a sense of nostalgia all the same. The cyclicality of fashion will never cease to surprise or please me!
While J. Crew collaborated with Eastpak on a lineup of 14 offerings for fall, the standout pieces are undeniable the pink velvet backpack and fanny pack. Lizzie McGuire would have been all about both styles for their soft sheen and bubblegum hue, as would have my middle school self.
The Orbit Backpack, as it's called, is in-between a mini backpack and normal school-sized version, meaning it's meant to serve more as a purse rather than a computer and textbook carryall. It features a small front pocket for items like lip balm and subway cards that need to be easily accessible, while its larger cavity can fit your wallet, sunnies, and water bottle with lots of room to spare. "Dedicated to fuss-free and hard-wearing accessories, [Eastpak] created the ultimate not-too-small, not-too-large backpack," the product description reads. "Bonus: This playful pink version was dreamt up by our design team and can be found here and only here." That's hot.
The Springer Fanny Pack is also a J. Crew exclusive and is cut from the same velveteen cotton candy fabric as the backpack. It features a two-liter volume pouch, which is fairly large as far as fanny packs go, and a hidden zip pocket on its back side. If you've got valuables that you don't want to risk falling out of the main cavity (i.e. keys, credit cards, and IDs), this incognito storage spot is a safe bet. The fanny pack is grounded in black accents and a black buckle strap, rendering it the perfect fuss-free bag for festivals.
If soft and pink isn't your style, check out the other J. Crew x Eastpak offerings. From camouflage to denim, with solid color offerings in between, there's bound to be something that will strike your fancy. Backpacks range from $45–$115 (some are heavy duty and meant for hiking traveling, and more), while fanny packs run between $25–$40. Seeing as Eastpak was originally a supplier to the U.S. Army, you know that no matter which bag you go for, it's going to be quality.