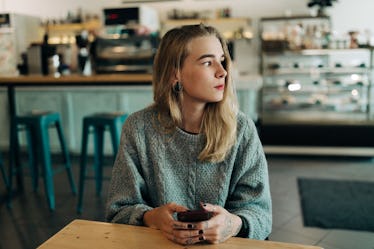 If Your Texts With Your Partner Look Like This, You're In A Toxic Relationship
If you've ever been in a truly toxic relationship, you know that the first sign is enough. While you may have ignored the red flags in the past — no judgment, been there myself — you realize that most toxic relationships manifest themselves in lots of different ways. This also means there are many ways to spot the signs of an unhealthy relationship, including by knowing what texting looks like in toxic relationships.
What exactly is a toxic relationship? According to Eric Resnick, dating expert and profile writer, it's basically the exact opposite of a healthy one. "A healthy relationship enhances your life and your spirit. It makes you feel good, secure and happy," he tells Elite Daily. "If you are not feeling these things, then you are in a toxic relationship. They happen when you or your partner let your insecurities or actions drag your relationship into a place where you are unsure of where you stand, questioning your — and your partner's — actions, and resenting each other because of it." For dating coach Erika Ettin, a toxic relationship has similar traits. "[It's one] where you're left to feel less-than from your partner. [They] puts you down or in some other way makes you feel insecure or just plain unhappy," she tells Elite Daily.
Needless to say, you deserve a whole lot better. So if this dynamic sounds familiar, but you're still not convinced, then here's how the experts say you can tell your relationship is toxic just by looking at how you text one another — and what to do about it.