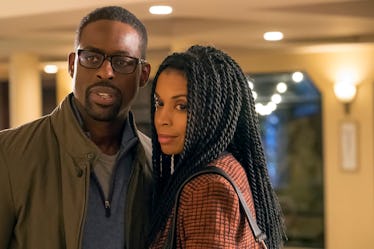 'This Is Us' Season 3 Will Get Political, As If There's Not Enough To Cry About
NBC
Filming for This Is Us Season 3 is underway, which means it's time for new recurring characters to be announced. Though creator Dan Fogelman does his best to keep spoilers for the new season under wraps, details for the coming season have begun to arrive. The bad news is it looks like politics, which seems to have infected everything in 2018, will not be leaving viewers' favorite cryfest alone. Word is, This Is Us Season 3 will get political, at least in one present-day storyline.
The good news is the politics won't be on a national level. There won't be tweets read over the breakfast table every morning. (At least, I hope not.) Something like that wouldn't be in keeping with the tone of This Is Us anyway.
If you asked Jack and Rebecca Pearson who they voted for in 1980 or 1990, the answer would probably be Reagan and Bush Sr., the politics of the era never really comes up. It's just not significant in the day to day life they live. Local politics, on the other hand, can be essential, especially to Randall and Beth Pearson, who got into the affordable housing game in Season 2. This is where politics will be coming in next season.
According to The Hollywood Reporter, the show has tapped Mudbound actor Rob Morgan for a recurring role as a local Philadelphia area city council member.
Morgan will portray Solomon Brown, a longtime city councilman and fixture in Philadelphia who oversees the very district where William (Emmy nominee Ron Cephas Jones) lived pre-Randall (Sterling K. Brown). The character is described as smart and charming, a family man and regular churchgoer. He knows how to play the game and do what it takes to succeed.
As fans will recall, Randall impulsively convinced Beth to purchase the building William lived in during those pre-Randall years, which makes the two of them property owners in this district, attempting to create an affordable housing unit for some of the district's poorest residents. This sort of do-good work, unfortunately, means having to rub elbows with those on the city council who might have NIMBY constituents who don't want poor people moving into the neighborhood.
According to Fogelman, it is sort of local level politicking which will be part of next season. It's the sort of thing best left to Beth. But Randall will probably insist on butting in anyway.
Someone starts entering the world of local politics. It's nothing big and national — nothing Republican vs. Democrat or left vs. right — but we're going to dive into some community hot political waters with a surprising character.
Will it be Randall who suddenly gets bitten by the politics bug? His tendency to jump into things he doesn't know much about has been a recurring feature throughout the series. Or will it be Beth who decides buying the building is only the first step in changing the lives of the people who live in this district for the better?
This Is Us Season 3 returns to NBC on Tuesday, Sept. 25, at 9 p.m. ET.