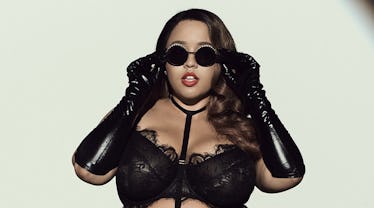 Feast Your Eyes On The Best Lingerie For Each Zodiac Sign, So You Can Feel Your Sexiest
One of the easiest ways to instantly feel sexier, or to add a little spice to your sex life, is to invest in some nice (or naughty) lingerie. The key is to pick the undergarments that make you feel your most amazing and powerful. Ones that make you feel the most you. Here's the thing: There is a lot — and I mean a lot — of lingerie out there to pick from, so if you're not sure where to start, it can be daunting. One way to approach the search is by considering the best lingerie for each zodiac sign. This can help get you started narrowing down the choices and make it easier to find that one special piece of dream lingerie that you'll never want to take off. Well, almost never.
Maybe you're a Capricorn who wants something more classic, or a Pisces who leans romantic when it comes to lingerie. No worries, there really is something for everyone here, from lacy, romantic bralettes, to structured harnesses with a hint of kink that lets whoever gets the honor of seeing it know you mean business. Or maybe you're somewhere in between. Either way, if you are in the market for something super sexy, here is the best lingerie for you, based on your astrological sign.