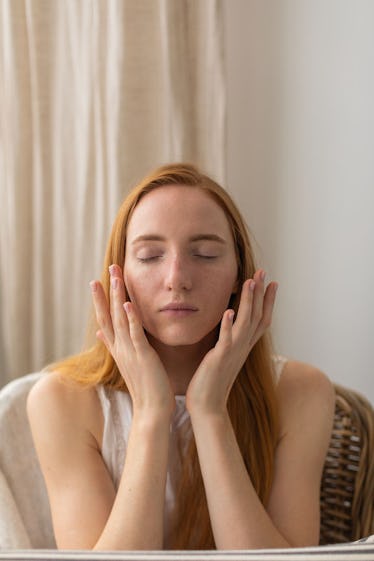 Reddit Says This Is The Best Foundation For Dry Skin, But Yes, There's A Catch
Setting out to find the best foundation for dry skin is no easy task, as it's incredible difficult to find a solid moisturizing foundation that doesn't leave your skin at least a little flakey or ashy. Thankfully, though, Reddit users in the r/makeupaddicts thread have come to one person's rescue, offering tons of suggestions for this pesky issue, including one stand-out pick — the only problem is that there's a bit of a catch.
According to Redditor princesspoohs, Lancôme's Absolue Makeup Cream Foundation ($69, lancome-usa.com) is their go-to foundation choice for dry skin. "It is my HG, it's the ONLY foundation that doesn't look dry or cakey on my skin," they wrote. "Seriously, it's amazing. Most foundations look like dry foundation on me and make my spots that are the teensiest dry or textured look so much worse (and sometimes flake) but the Lancôme doesn't. It's super rich and emollient."
The user added that they even have a special application technique to ensure the product keeps their skin hydrated. "I use my fingers in sort of a pat-roll motion," they said. "Because I don't think it needs to be buffed in with a brush and I haven't used my beauty blender with it yet, because the foundation is so expensive that I've been too scared to waste so much product with a beauty blender application! It's the only foundation that I don't use a brush or blender with."
But while this comment may have gotten the most "points" in support, there is one issue: This product has a very limited shade range. Boasting only eight shades in total, it isn't a pick that's inclusive of darker skin tones. On top of that, it also may not be the best solution if you're prone to breakouts. "It's excellent for dry sensitive or combination skin," Dermatologist Dr. Lily Talakoub told Teen Vogue. "It's a really good foundation, but it's not meant for people whose pores clog easily or who have a lot of acne, because it can break you out."
Thankfully, Reddit users had a few other suggestions up their sleeves, including Wet n Wild's Photo Focus Foundation ($6, wetnwild.com), which comes in 20 shades, along with Hourglass' Vanish Seamless Finish Foundation Stick ($46, hourglasscosmetics.com), available in 32 shades, and IT Cosmetics' Bye Bye Foundation Full Coverage Moisturizer ($40, ulta.com) with 12 shades and SPF 50+ protection.
As for foundations that work with acne-prone skin, e.l.f.'s Acne Fighting Foundation ($6, elfcosmetics.com) has been a long-time affordable staple for many beauty lovers, however, it, too, is also lacking when it comes to shade range. Clinique's Acne Solutions Liquid Makeup ($29, clinique.com), however, is another great option, and while pricier, it does offer 16 shades in total.
If you're looking for skincare products that help to combat dry skin before you put on makeup, Clinique's Moisture Surge Overnight Mask ($35, clinique) is a product that gets to work as you sleep to give you a dewy glow in the morning and will keep your skin hydrated all day, every day. If you're looking for a slightly cheaper solution, Neutrogena's Hydro Boost Water Gel ($20, neutrogena) has made some serious waves (no pun intended) as a go-to product when you're looking for a surge of hydration. Dry skin? Challenge accepted.