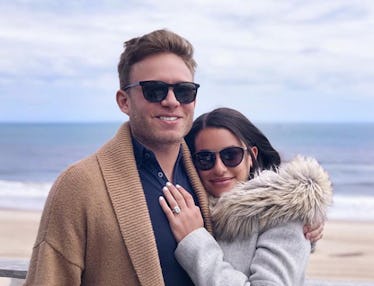 Lea Michele Revealed How She Knew Zandy Reich Was The One & I'm Crying
Lea Michele
For those of you who missed the glorious memo, Lea Michele is ENGAGED. Yes, she is engaged to her boyfriend of over a year and longtime friend, Zandy Reich and he got her one seriously incredible ring. But before they were making headlines as everyone's new favorite newlyweds-to-be, they were just a normal couple trying to figure out if their relationship could really be "it." And the way Lea Michele knew Zandy Reich was the one is literally the cutest thing you'll hear all day. I promise.
But before we get into all of that adorable goodness, let's backtrack for a second so I can give you all of the deets on the engagement. Michele, 31, was on vacation in the Hamptons with Reich, the president of clothing company AYR, when he decided to pop the question with an out-of-this-world, custom-made four-carat elongated radiant-cut diamond ring.
"I was surprised," Michele told PEOPLE at the Kim Crawford Wines event at Chateau Marmont in Los Angeles on Tuesday. "I think the first thing I said to him was, 'Stop joking around!' So I was super surprised."
"Everyone said, 'Try to be present because it'll happen so quickly.' Which I didn't listen to at all and blacked out and I barely remember," she continued to PEOPLE. We both blacked out and were like, 'What? Did we say yes? Is this happening?' " Yes, Lea, IT'S HAPPENING and I, personally, could not be more excited about it.
"It was so great," Michele gushed to PEOPLE on Tuesday. "It was very private, so it was just nice to be with our families and stuff for a while."
Now that the two are officially tying the knot, Michele has to carve time out of devote some time from her ultra-busy schedule to focus on planning their wedding.
"I'm definitely thinking about it! I'm a busy person and I feel like you have to make it a priority because if you don't, there's always stuff that's going to come and get in the way and take your time and attention," she explained to PEOPLE. "I try to make sure I try to carve out a little bit of time every day to just chip away at some planning."
But before she was carving out time in her schedule to plan their nuptials, Michele was trying to decide if Reich was the one for her and the moment she knew couldn't be cuter.
"I think when I realized my father potentially liked him more than me," she told PEOPLE. "I really think that's when I realized he was the one!"
Approval from dad?! What more could you ask for?! OK, that was sarcastic — obviously there are lots of things that matter more than approval from dad, but approval from a dad who you love and respect in addition to your awesome relationship with an awesome person?! Not to sound like the Lizzie McGuire Movie but... this is what dreams are made of!
Even before their engagement, Lea hasn't been shy about letting the world know Reich's importance in her life.
"When I'm not working, I'm at home with my cat, with my family, with my boyfriend, with the people that I love — and that's how I reset, and that's how I center myself," Michele recently told PEOPLE. "It's so important to tune out the noise and the unnecessary, and just focus on the people that you love because they know you better than anyone."
Cheers to the happy couple! Congrats to Lea on finding someone who makes her feel truly grounded... and who has her dad's approval!
Check out the "Best of Elite Daily" stream in the Bustle App for more stories just like this!