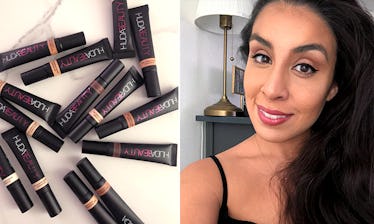 The Applicator On Huda Beauty's New Concealers Made Me Want To Ditch My Makeup Sponge
Stephanie Montes
Huda Kattan is a makeup artist turned influencer turned empress of her namesake beauty-empire, so needless to say, she knows a thing or two about creating a standout product. I already keep her #FauxFilter Foundation on repeat, so when I heard a concealer was on the way, I couldn't wait to do my own Huda Beauty concealer review. The second the entire range (all 20 shades) landed on my desk, I slapped it on my dark circles, used it to cover my breakouts, and used it to contour my face. Here's how it held up to my high Huda Beauty standards.
Before I took the concealer to my makeup sponge, I read up on details of the new launch. The Huda Beauty Overachiever Concealer ($30, Huda Beauty) is buildable and promises to conceal everything from dark circles and hyperpigmentation to redness and breakouts without settling into fine lines or creases. And it doesn't just look good on your face. It's also packed with good-for-you ingredients like green tea (which reduces discoloration and prevents the breakdown of collagen), albizia julibrissin bark extract (which is celebrated for its anti-inflammatory and antioxidant properties), and Jericho rose extract (which soothes and moisturizes skin). Best of all, the concealer is packed with light-reflecting spheres that give skin a blurring effect, like an IRL Snapchat filter.
The first thing I noticed when I cracked this concealer open was the applicator tip. Judging from the shape of the tube and the screw-on cap, I expected the usual brush or sponge applicator, but I was pleasantly surprised to find a metal wand, just like the ones you find in skincare, usually on those expensive eye creams.
I considered that a nice touch — the cool metal would be a great tool for massaging and de-puffing the area around my eyes — but I assumed this would obviously not going to be a great tool for blending. But actually, I couldn't have been more wrong. In fact, when I applied the concealer under my eyes, I used the applicator on the tube to blend it on. I didn't even need my finger to smooth it out.
Following application, the concealer looked smooth, natural, and totally blended, and the best part is, the dark circles under my eyes are completely gone — so were the freckles in this area. See below for a side by side comparison. I don't even need to tell you which side is the before and after:
By this point, I've already added the The Overachiever Concealer in the shade Granola to my daily makeup bag, but I decided to see what else this baby could do. To further test its powers, I used a lighter color (Cotton Candy) and darker shade (Hazelnut) to highlight and contour my face.
Again, I decided to forgo the brush and sponge to blend the concealer. Doing so takes longer —mostly because the applicator is meant for smaller areas — but I loved how blended and pigmented it looked.
Between the pigmented formula, the range of shades, and my new favorite applicator, this concealer earned prime real estate in my purse. Even better, I can keep it on hand for on-the-go touchups, without even needing to pack a handful of tools to apply it.