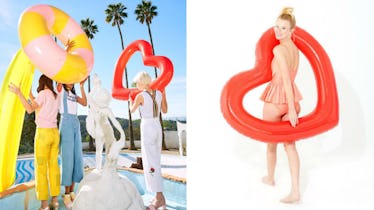 This Heart-Shaped Pool Float Is Making Waves On Insta & These Captions Will, Too
There's no denying that this has been the summer of giant inflatables. What started as #SwanGoals has now blown up (pun intended) to the giant pool float collection you fell in love with on the 'Gram. From every animal in the kingdom, to pretty much every food item on the menu, you've likely seen it all. You might have thought you couldn't be impressed by another one, but this heart-shaped pool float is making waves on Instagram, and you need to add it to your end of summer bucket list ASAP.
This Beach, Please! Jumbo Heart Innertube from Ban.do will have you falling in love with summer all over again, and there's just something about this cute AF inflatable that has... well, everyone's hearts beating. It's perfect for floating during a nice pool day with your best friends, or swimming around in the lake with your family. The reason everyone has heart eye emojis for this particular inflatable is all the Insta pics possibilities.
You'll be getting a lot of likes as you pose with your red heart by the pool, but before you post, you need the perfect caption to tie it all together. This is always the part of the 'Gram that presents a challenge, but I don't want you to waste away your pool day thinking of a caption on your own. Instead, use any of these 20 heart quotes that I'm sure you will absolutely love.
1. "It will come. When your heart is ready to carry it." — Unknown
2. "The heart wants what it wants." — Selena Gomez, "The Heart Wants What It Wants"
3. "Kind heart. Fierce mind. Brave spirit." — Unknown
4. "When I see you, my eyes turn into little hearts." — Unknown
5. "She's a badass with a big heart." — R.H. Sin
6. "Hearts are wild creatures, that's why our ribs are cages." — Elalusz
7. "You make my heart beat." — Unknown
8. "Keep some room in your heart for the unimaginable." — Mary Oliver
9. "A dream is a wish your heart makes." — Cinderella
10. "Your heart knows the way. Run in that direction." — Rumi
11. "My heart will float on and on." — Unknown
12. "Having a heart-to-heart with my pool." — Unknown
13. "Having a hearty day in the pool." — Unknown
14. "Nobody has ever measured, not even poets, how much the heart can hold." — Zelda Fitzgerald
15. "There comes a time when the world gets quiet and the only thing left is your own heart." — Sarah Dessen
16. "The best and most beautiful things in the world cannot be seen or even touched. They must be felt with the heart." — Helen Keller
17. "I aorta tell you how much fun I'm having." — Unknown
18. "Trying to not let my summer days go by in vein." — Unknown
19. "Pump it up by the pool." — Unknown
20. "I heart summer days." — Unknown