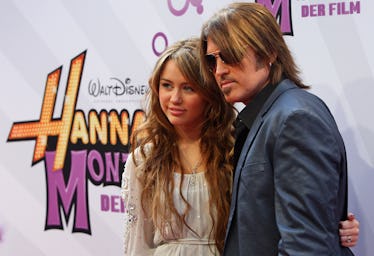 This 'Hannah Montana' Reunion Photo Is Close To Perfect, But It's Missing One Big Thing
Miguel Villagran/Getty Images Entertainment/Getty Images
Nothing beats the early 2000s era of Disney Channel. Miley Cyrus wasn't sticking out her tongue, Selena Gomez and Demi Lovato were BFFs, and Cole Sprouse was still a baby-faced blonde. Although she went through a bit of a rocky period when she seemed to disconnect herself from her Disney past, Cyrus has now turned a page. She clearly had FOMO when her old castmates met up recently, as seen by an adorable Hannah Montana reunion photo that hit social media.
After initially seeing each other earlier this week, Hannah Montana actors Emily Osment, Mitchel Musso, and Jason Earles were joined by former co-star Moises Arias for yet another cast reunion. Their popular series ended in January 2011 after four seasons, so perhaps their hangout was in honor of the series finale's seventh anniversary. If that wasn't cute enough, it hasn't even been that long since some of the group was together. When Earles was married last summer, both Osment and Arias attended, as well as fellow Disney Channel alum Phill Lewis. Clearly, bonds formed through the House of Mouse live on well past someone's time on the network.
Sharing a group photo of the meeting on both Twitter and Instagram, Osment, who played Miley Stewart's best friend Lilly, included a heartfelt message that will make your nostalgic heart ache. After this, I may be secretly hoping for a revival series. Hannah Montana can do a comeback tour, right?
Osment sent a shoutout to Cyrus, saying that she and the boys missed their fellow co-star. Cyrus soon responded to the message, writing that she wished she could've been on this trip down memory lane.
If you just caught news of the reunion on Twitter, you would've missed Osment's longer, incredibly sweet message accompanying the same photo on Instagram. "Hope all you HM fans know after all these years we still come back to each other," she said, "and talk about how much fun we had growing up together in front of the world during the most awkward stage of life and we couldn't have done it without all of you tuning in."
Earles, aka Miley's big brother Jackson, shared a shot of himself with Arias, who played Jackson's nemesis and on-and-off boss Rico. You can't tell in the candid group photo, but Earles even wore a Rico's Surf Shop shirt for the hangout. Can I start a petition for these two to run a Rico's pop-up shop this summer?
It appears that Earles was with Osment and Musso before the bigger reunion for a screening of Musso's movie Bachelor Lions. The new film also features Big Time Rush star James Maslow, so the movie basically employed an onslaught of childhood throwback actors.
Earles posted several throwback photos of life on the Hannah Montana set in honor of the show's tenth anniversary in 2016, but the other cast members are usually less likely to share memories from the Disney exprience. Cyrus, known for many an Instagram selfie, rarely mentions the show on her social media, but said in a recent interview that, despite the pressure of being Hannah Montana, she enjoyed her time on Disney Channel.
In her full interview with CBS, Cyrus spilled more on her relationship with her former alter ego:
I think why people loved Hannah Montana was because Hannah Montana did feel real, and that's because I was under there. I definitely look back on it as a good time. I think what was hard for me was definitely balancing everything...I toured as Hannah Montana and myself.
People grow up, and it's inevitable that they drift away from friends they made in their teens. While it was so nice to see the majority of the Hannah Montana cast reunite, I have my fingers crossed for the day that Cyrus joins them. Until then, I'll be playing Miley's ingenious Bone Dance on repeat.