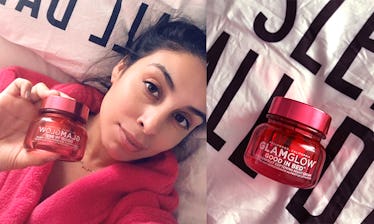 I Tried GlamGlow's Good In Bed Night Cream & It Was The Best One-Night Stand Ever
Stephanie Montes
If I'm being totally honest, my skin has been feeling a little lackluster lately. To be fair, I've been slacking on my skincare routine, but still. I love when my skin radiates brightness and has a dewy bounce, so I've been in need of a little shakeup in my skincare regime. So one night, I decided to try something new and do a GlamGlow Good In Bed Softening Night Cream review, and trust me when I say I couldn't believe what I found the next morning.
Before even trying the cream, I was immediately drawn to the suggestive name. I heard "good in bed" and right off the bat, I knew it was a night cream or sleeping mask of sorts — it's genius! I opened the product's red packaging and pulled out the red jar with the signature star on the lid. Somehow, even the packaging feels sexy. I cracked open the jar to feel the product's formula, and I definitely wasn't disappointed.
The GlamGlow Good in Bed Passionfruit Softening Night Cream ($54, glamglow.com) is a super heavy moisturizer that straddles the line between a really good night cream and an even heavier moisturizing mask. I applied the mask all over my face, and it went on like butter (easy and smooth) and felt like frosting (thick and really coated my skin).
Immediately, I noticed how fruity the cream smelled. Judging from the name and the red packaging, I was expecting something sensual and spicier, but I was pleasantly surprised. The fruity smell comes courtesy of the star ingredient: passionfruit. Ingredients like passionfruit oil, hyaluronic acid, and squalene in this overnight sleeping mask nourish and hydrate skin, while the gentle blend of AHA, BHA, and PHA acids exfoliate and give you a serious glow while you sleep. Plus, it's powered by cationic technology, which is a cocktail of positively charged ions that fuse to your skin (which is negatively charged) and stay in place all night long, allowing for maximum absorption. It's all very scientific, but trust me, all you need to know is, this cream works!
By morning, my skin had completely soaked up all that thick cream, and get this: There was no greasy residue on my pillow. (Thanks, positive ions!) Even before I looked in the mirror, I could feel that my skin was quenched. It was soft to the touch, bouncy, and still felt moist.
After hopping out of bed (this never happens) and examining my skin in the mirror, I noticed that any fine lines on my forehead had been softened, my skin had a natural, dewy glow, and my complexion looked significantly brighter. If this was what I saw after a one-night stand with this product, what would I see on the second night? How about after a week of going to bed with it? And just like that, GlamGlow's brand new Good in Bed Cream earned a permanent spot on my nightstand.
The new night cream will be available on GlamGlow's website on Tuesday, Dec. 4, 2018, and trust me, it'll be the best thing you've ever taken to bed.