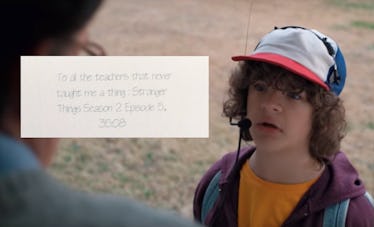 This Girl Referenced 'Stranger Things' In Her Yearbook Quote & It's Perfect
In my opinion, the quote you chose for your high school yearbook really says a lot about you. Mine was an angsty excerpt from the sad rom-com, 500 Days of Summer, because during that stage of my life, I had #AllOfTheFeels (if you know what I mean). But I'm honestly so jealous of this girl's Stranger Things senior yearbook quote that went viral, because it literally brings high school angst to a entirely different level. And as a still-angsty adult with an undying love for standing up to authority — as well as Stranger Things — I really, really love it.
Lucky Julia Simsuangco is an 18-year-old student in Lancaster, California, and it's pretty clear she's ready to GTFO of high school. According to BuzzFeed News, Simsuangco was having some major trouble deciding on a yearbook quote, and ended up settling with, "To all the teachers that never taught me a thing: Stranger Things Season 2 Episode 5, 35:08." If you're a Stranger Things fanatic, you may remember what this timestamp refers to. If not, open Netflix ASAP. This is an emergency.
According to BuzzFeed News, Simsuangco's quote refers to a Stranger Things scene from the fifth episode of the second season, where Dustin is looking for his BFF, Mike. Dustin ends up at Mike's parent's house, and Mike's father has no idea where he is. He gives Dustin some major attitude, and Dustin exasperatedly responds, "Son of a b*tch. You're really no help at all, you know that?" And alas, this is the infamous quote that's directed to "all the teachers that never taught me a thing." Honestly, it's so witty and amazing, I'm kind of jealous I didn't think of something like this for mine.
Simsuangco explained the inspiration behind her senior quote to BuzzFeed News. Apparently, she was under a lot of academic pressure at the time and felt that a lot of people could probably relate to the quote in one way or another. Simsuangco told BuzzFeed News,
When quotes were due, I was struggling with a few teachers in particular who made students worry more about passing the class than actually making sure they learned the material. I didn't want to put that specific teacher on blast, so I just generalized it because I knew a lot of people who felt the same about different teachers.
She continued, and reportedly said, "I also know it's a two-way street and that students should be meeting the teachers halfway in order to learn something, but sometimes it's out of the students' control on what goes on in the classroom."
Simsuangco then shared her senior quote to Twitter (because it deserves to be seen), and it went viral. Like, it's been retweeted over 131,000 times, which makes total sense. People love Stranger Things (myself included), and everyone has probably had a handful of teachers they didn't care for at some point in their lives. It's so #relatable, and Simsuangco nailed her delivery. Brava, Simsuangco.
So many responses show that Simsuangco's tweet is super relatable. Twitter user @lukebdeguzman responded, "I ship you and Gaten Matarazzo," (Gaten Matarazzo plays Dustin, and said the quote on the show) while user @Kalder_ said, "This is ICONIC." Twitter is loving it, and quite honestly, so am I. Simsuangco for class president, y'all.
I've seen a lot of incredibly interesting yearbook quotes over the years, and very few have surpassed that of Simsuangco's quote. Not only is her quote derived from my absolute favorite Netflix show, but it's also a snarky little dig to all her teachers that apparently gave her a hard time. Even though not all teachers are useless (by any means), it's a super funny quote, and unless you're a mouth-breather, you've probably been there at some point.