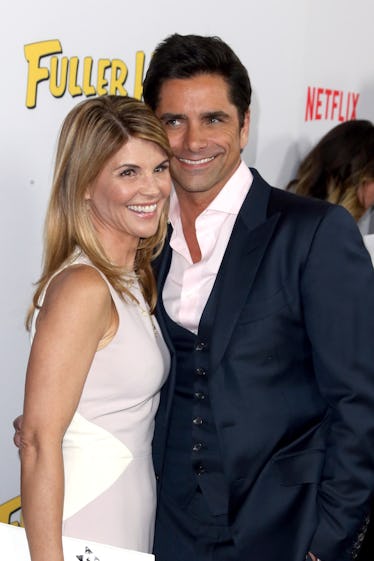 This 'Fuller House' Season 4 Pic Of Uncle Jesse & Becky Is Too Much To Handle
Frederick M. Brown/Getty Images Entertainment/Getty Images
Fuller House Season 4 is indeed happening, Tannerito fans, and it appears that filming is underway. TV aunt extraordinaire Lori Loughlin took to social media to share a snap of her and a special someone — her longtime small screen spouse, John Stamos — as they sat on the steps of the iconic San Fran (OK, Warner Bros. lot, but you get the picture) Tanner townhome. Her Fuller House Season 4 pic of Uncle Jesse and Becky in all their stoop-tastic glory is too cute for words. With every passing year, this iconic TV couple gets more adorable. Great — now I have the song "Forever" in my head...
The Full House spinoff Fuller House premiered February 2016 in what feels like the early days of the '90s reboot craze. The series has been a streaming success for Netflix and it was confirmed in January 2018 that there would be fourth season to look forward to. The second half of the third installment debuted in December — the two-part season kicked off last September. A premiere date for Season 4 has not been revealed (fingers crossed for an announcement shortly), but from the looks of Lori's Insta, shooting for the upcoming episodes has begun. Have mercy!
Lori's not the only cast member posting on-set Fuller House moments. Jodie Sweetin, aka Stephanie Tanner, posted a sweet pic on June 12 with the hashtag #FullerHouseFamily.
On June 2, Andrea Barber, who plays Kimmy Gibbler, gave her followers a look at what she dubbed "curtain call shenanigans" using the hashtag #season4.
The actress also posted a photo of a script/baby bump combo (her character is acting a surrogate for Stephanie) on May 18, noting that she was gearing up for the "first live taping of Season 4."
Candace Cameron Bure, who began portraying DJ Tanner over 30 years ago, revealed her hopes for the future of Fuller House in an interview with E! News earlier this year:
What's most important to me is as much fun as we have on that show, it's always about the heart and lessons that are learned as families. I really want to make sure we bring that in in season four, even more than we have in any other season.
Candace and Scott Weinger (yup, Steve) clutched their coffees in a sweet snap from May 22. Uncle Jesse and Becky aren't the only Fuller House duo serving behind-the-scenes pics...
Whether you're a newfound viewer of the ongoing Tanner family chronicles you watched Full House as a kid, or you catch Fuller House now that your own child is a fan — yeah, the show's been around since 1987 — the series' reach is undeniable. I watched Jesse and Becky fall in love, clash over their wedding plans, get married after Jess landed in jail (it was a minor tomato-based crime), have twins, move into the attic — and they're still on my radar in 2018. That's something I did not expect as an elementary school student while witnessing Jesse's heartfelt proposal.
"John and I always had fun playing the characters," Loughlin told Today in March when discussing her fan-fave television relationship. "We had a fun rapport. I guess it's a relationship that people look up to and want to emulate. I just know that they are two really loved characters. People love them as a couple; they love them together, which is very nice."
Plus, John and Lori are pals in real life. Theactors have recurring roles on Fuller House and if Lori's pics are any indication, it looks like the '90s sweethearts will be back to reprise their beloved characters for Season 4.