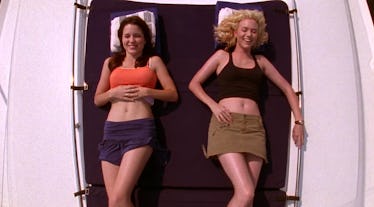 7 Best Pieces Of Friendship Advice Peyton & Brooke From 'One Tree Hill' Taught You & Your BFF
It's been years since Peyton, Lucas, Brooke, Haley, and Nathan graced your TV screen every week on One Tree Hill, but any true fan of the show knows the iconic series made a lasting impact. It might have been your first taste of true love, and butterflies filled your stomach when Lucas told Peyton her art really mattered. There was a lot of drama that went down, and you cried with Peyton when she said, "People always leave." Though, through the ups and downs, some of the best scenes were between Brooke and Peyton, and it was the friendship advice from One Tree Hill that still sticks with you and your bestie to this day.
Peyton and Brooke might have been your first example of BFF goals. You thought you were just watching the drama unfold week to week, but you'd be surprised at all of these seven examples of friendship advice that you were actually consuming. This beloved show could even be one of the many reasons why you and your bestie have stayed tight all these years.
So to celebrate your BFF status, you might want to plan a throwback night. Re-watch all of the old episodes like you used to with the P. Sawyer to your B. Davis.