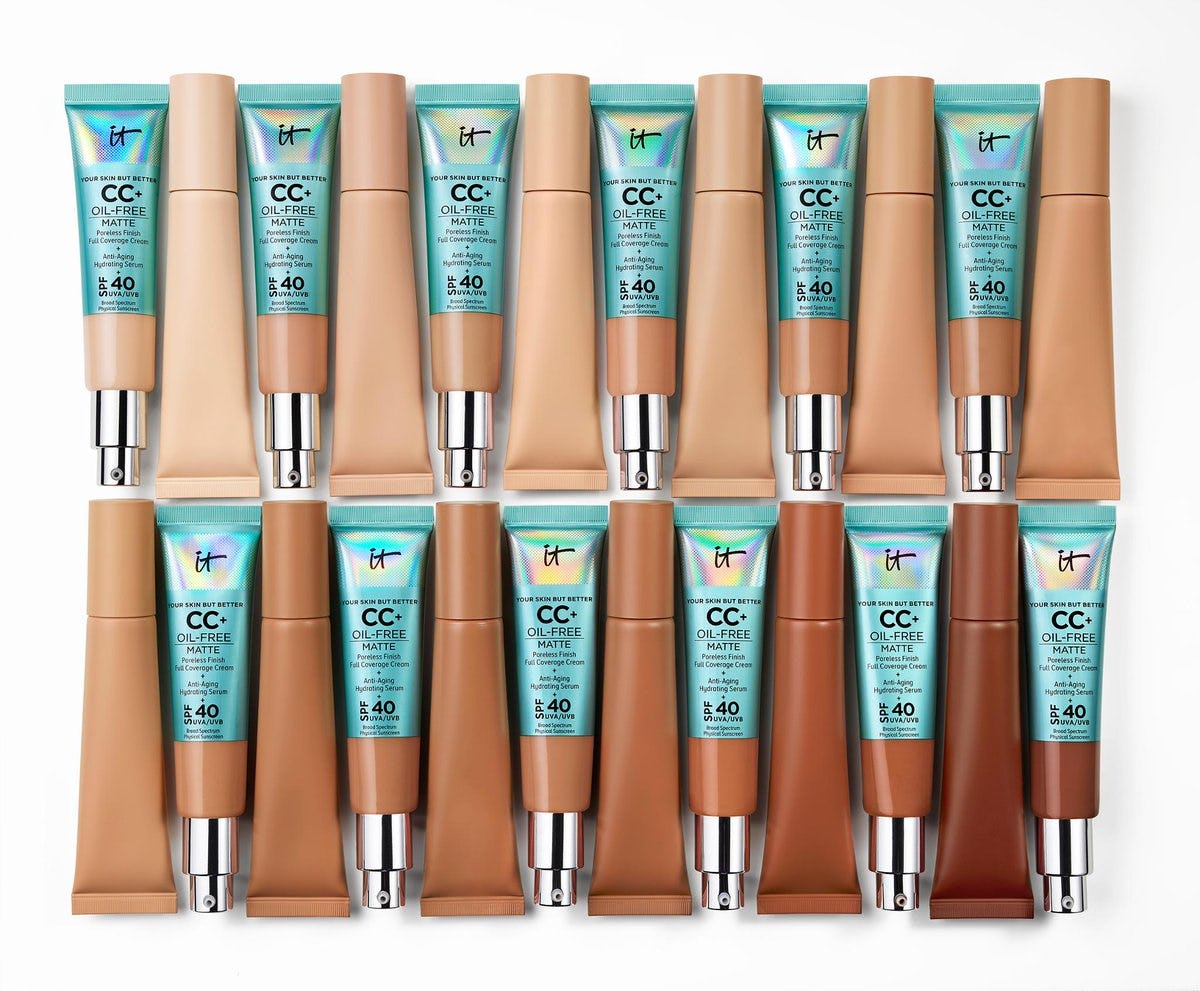 There's A New Foundation For Oily Skin & It Works Like Shine-Free Magic
It Cosmetics
When it comes to foundation for oily skin, there aren't a ton of truly excellent options out there that provide full coverage while also staying strong against the heat and, of course, oil. Which is why It Cosmetics' new CC (or color correcting) cream is such an exciting new product. It's formulated with ingredients that promise to protect your skin from the sun's rays while not succumbing to them, keep your complexion matte and oil-free for 12 hours, and provide full-coverage while doing so. Yep, it's a beauty lover's dream.
It Cosmetic's is known for their original CC+ Cream, which is a bit like magic in a tube. With a bit of buffing it can erase hyper-pigmentation, breakouts, and the like and result in uber glowy and even skin. It comes in both natural and illuminating finishes, with the latter leaving your skin with an extra boost of radiance. Both creams boast SPFs of 50, meaning along with perfecting your skin they'll also protect it. It's a win-win.
It's no secret that fans are obsessed with It's CC+ creams — you only need to look to social media and blogger reviews to see how much of ace products they truly are. That is, for people with non-oily skin.
Upon hearing that fans with oil-prone skin were unable to wear their CC+ creams, It Cosmetics decided to formulate one specifically for them. Last month, their CC+ Oil-Free Matte ($38; sephora.com) dropped and it's as good as you would hope. Along with the same ingredients found in the brand's original CC+ creams, the new product also includes colloidal clay to absorb oil, charcoal to detoxify, and tea tree extract to help calm breakouts. It also boasts 12 hours of shine-free wear no matter the season, which is huge during summer months.
An Elite Daily editor tested the formula at the brand's launch event, and remarked that it "feels cooling" and "you can actually feel the clay working on your skin." For those with combination skin, the formula can be spot-applied over shiny areas (like chins and foreheads) and combined with the brand's regular variety over drier sections.
There are two small cases to be made against the new CC+ cream, the first being that it only boasts an SPF of 40 rather than 50. But as POPSUGAR points out, the AAD recommends sunscreen that's SPF 30 or higher, so it's still well within a healthy range.
The other grievance is that the product isn't available in a wide shade range. Currently, it's only available in 12 shades, which as Fenty Beauty as so awesomely proven is nowhere near enough to truly offer something for everyone. However, the hues offered do adapt to a much-larger array of skin tones, and It Cosmetics' founder Jamie Kern Lima did post a photo to Instagram teasing a shade expansion, although it's unclear if it was for the new oil-free product or another one of the brand's CC+ creams.
Head to Sephora's website, which is where the CC+ Oil-Free Matte is exclusively sold for $38, and grab a tube yourself. You might just get your best summer skin ever with it.