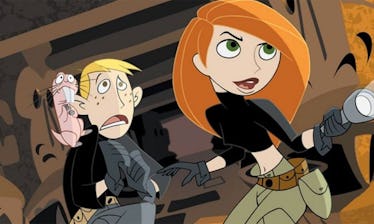 The First Photo Of The Live-Action 'Kim Possible' Movie Is Here & The Nostalgia Is Real
Disney Channel
Let's face it millennials, time is racing by. I remember the days when I'd come home from school, flip on Disney Channel, and escape into the adventures of Kim Possible and Ron Stoppable. Sometimes those days feel like a lifetime ago, but this first photo of the live-action Kim Possible movie is hitting me right in the childhood feels.
I'm sure I wasn't the only one who screamed internally when news broke in that a live-action Kim Possible movie would be gracing our screens in the near future. Since then, young adults around the nation have been eagerly awaiting any updates about the anticipated film, and finally we have our first sneak peek. On July 22, Oh My Disney shared a photo of Sadie Stanley (who will be playing the red haired queen herself) decked out in her Kim Possible uniform. From the black top to the iconic army green cargo pants, it's safe to say that Sadie Stanley is already killing it as my childhood queen.
Even though Kim Possible may be the star of the iconic animated television show, no hero is fully complete without a sidekick. In April, Disney Channel announced that young actor Sean Giambrone will be playing Ron Stoppable. We may not have a glimpse of the charming blonde slacker quite yet, but judging from Stanley's look, I have a feeling it's going to be perfect.
We've only seen one sneak peek, and it's already starting to feel like the early 2000's. I have never been more excited for a call or beep in my entire life.
So now that we've seen the cast, what can we expect from the movie itself? Never fear loyal Kim Possible fans, because the creators behind the live-action film are the same faces that brought the iconic television show to life in the first place. Not only did series creators Mark McCorkle and Bob Schooley write the move script, but Worldwide EVP of Original Programming for Disney Channel, Adam Bonnett, is also on board. In February 2017, Bonnett spoke to Variety about the process behind creating this film, and how much fun the team is having bringing this project to life.
He said,
Although Kim Possible 'can do anything,' kids and tweens found that this animated redhead was just like them. As we embark on the fun challenge of making Kim and Ron fully dimensional, I'm thrilled to be working again with Mark and Bob and to welcome the addition of a dynamic creative team ... into a world where anything is indeed possible.
We might not have an official release date for the live-action film quiet yet, but according to Bonnett the Kim Possible movie is set to begin production this summer (!!!) and will be released sometime in 2019.
Don't bother asking Wade what the sitch is, because I already know exactly how I'm going to celebrate this movie premiere. Catch me front row in that theatre rocking a popcorn shirt, a pair of bedazzled jeans, and of course a signature choker necklace.
I may be the most extra millennial alive, but when it comes to early 2000's nostalgia, I don't play. See you kids at the movies.