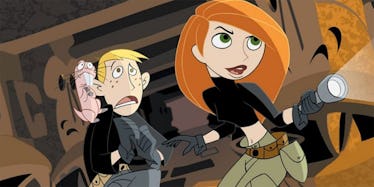 A Live-Action 'Kim Possible' Movie Is Coming & Here's Who's Playing Kim
Disney Channel
Call me, beep me, if you wanna reach me, because Disney just announced who will be playing the crime-fighting redhead in their upcoming Kim Possible movie. No, Christy Carlson Romano and Will Friedle won't be rounding out the live-action Kim Possible cast, but don't worry, the new Kim Possible and Ron Stoppable will be just as entertaining as the original duo. Who's playing Kim? You may not know Sadie Stanley yet, but you'll definitely remember her name after watching her kick some serious Shego butt.
Rather than just announce the new Kim Possible and Ron Stoppable, Disney chose to honor the original show with a video featuring Romano and Friedle's "audition" for the live-action film. The two arrive to the audition in full costume — I'm talking wigs, green and black outfits, and lots of makeup — but things have changed for the actors since Kim Possible went off the air in 2007. Romano and Friedle ensure the producers that they're only 15 years old, but naturally, the Disney execs aren't convinced (Romano bringing her baby, Isabella, probably didn't help either). After a less-than-stellar audition — Friedle still nails Ron's voice, though! — the producers convince the actors to "pass the baton" to a new power couple.
"Who are you thinking of casting?" asks Romano. "Meet Sadie Stanley," says one Disney producer. "And Sean Giambrone," says the other. Romano and Friedle approve — we even get a "Booyah" — so now I'm just left with one major question: What's the sitch with Sadie Stanley and Sean Giambrone? The young actors have big shoes to fill if they want to take on the iconic crime fighting duo, but if anyone is up to the task, it's these two up-and-coming stars.
Giambrone is best known for his work on ABC's long-running comedy The Goldbergs, in which he plays the youngest son of the family, Adam. He also stars in Clarence, an animated series on the Cartoon Network, and if you saw The Emoji Movie, you'd recognize his voice, too: He played Travis, the boy whose phone contains the emojis. In the original show, Ron Stoppable had a particularly high voice, so it wouldn't be shocking if Giambrone puts his experience as a voice actor to good use and continues that trend in the live-action movie.
Giambrone has some experience in Hollywood, but Stanley is a total newbie to the game. Other than taking on the role of Kim Possible, Stanley has only appeared in one show, Game Shakers, in a very minor role (she played Giggling Girl #1). But Stanley's relative inexperience didn't stop her from going out for the iconic role of Kim Possible. According to a Disney press release, she landed the role in her first audition ever, which is very, very impressive. It's safe to say that the live-action Kim Possible movie will be the start of a long acting career for this young star.
The casting may be different this time around, but expect the Kim Possible movie to carry on the show's legacy. The series' creators Mark McCorkle and Bob Schooley wrote the script, and the film will still follow Kim as she balances everyday high school drama with her superhero responsibilities. Said Disney Channel's Worldwide EVP of Original Programming, Adam Bonnett:
Although Kim Possible 'can do anything,' kids and tweens found that this animated redhead was just like them. As we embark on the fun challenge of making Kim and Ron fully dimensional, I'm thrilled to be working again with Mark and Bob and to welcome the addition of a dynamic creative team ... into a world where anything is indeed possible.
The live-action Kim Possible movie is set to begin production this summer and will air sometime in 2019. As Ron would say, Booyah!