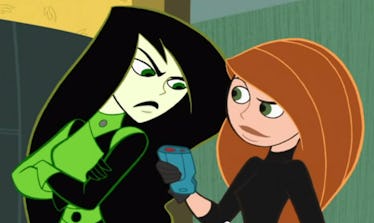 A 'Kim Possible' Live Action Movie Is Coming To Disney & Millennials Are Losing It
Disney
Reboots, revivals, and reunions are all the rage these days, but here's one resurrection of a beloved series that will probably make your day. If you watched Disney Channel in the early 2000s, Kim Possible was life. The crime-fighting, can-do attitude-having, crop top turtleneck-wearing teen was an animated inspiration to viewers everywhere. We've surely missed her these last 10 years. But hope is on the horizon! The basic average girl just here to save the world is making a return to the small screen. A Kim Possible live action movie is apparently in the works, so get ready for more fabulous adventures ahead.
Casting is reportedly underway for Disney Channel's upcoming Kim Possible film. Mark McCorkle and Robert Schooley, the series creators, are attached to pen the script with Josh Cagan.
"Although Kim Possible 'can do anything,' kids and tweens found that this animated redhead was just like them. As we embark on the fun challenge of making Kim and Ron fully dimensional, I'm thrilled to be working again with Mark and Bob and to welcome the addition of a dynamic creative team – Josh, Zanne, Adam and Zach – into a world where anything is indeed possible," Disney Channel's Worldwide EVP of Original Programming Adam Bonnett stated.
Just please tell us Christina Milian will return with an updated take on that epic theme song. Although, we're guessing the lyrics will probably have to be amended from "Call Me, Beep Me" to "Text Me, Snap Me" or something. Do kids these days even know what beep me means? Whatever.
Kim Possible ran on the Disney Channel for 87 episodes from 2002 to 2007. Two movies were spawned as a result — Kim Possible Movie: So the Drama and Kim Possible: A Sitch in Time. Christy Carlson Romano led the cast as the titular teen, and Will Friedle (Boy Meets World's Eric Matthews) lent his voice to her BFF-turned-boyfriend Ron Stoppable. Broadway vet and Even Stevens alum Romano went on to appear in a handful of projects, including Lifetime's Deadly Daycare. She attended Barnard University, was married in 2013, and welcomed her first child in 2016. Perhaps, if we're lucky, she'll make a cameo in the live-action version of the show she starred in for so many years?
"Just being able to say that I played her is such an honor," Romano remarked to MTV News last year on the possibility of the show's return. "And I really hope they bring it back someday and I get to reboot her."
Romano and Freidle were asked about their dream scenario for a modern-day reboot, and they both agreed Kim and Ron would get married, and have kids and naked mole rats in their futures. Since Disney is working on a live-action interpretation that probably doesn't take place when Kim's an adult, we'll just have to imagine that that's how the characters end up...
Christy also revealed how much the show meant to her now that she's a mom, saying, "I'm proud to have a daughter [who] will be able to see those shows and know that her mom was a superhero and also somebody who paraded and empowered women in general ... That's really cool, [that] I get to share that with her."
Kim Possible isn't the only TV classic getting new life through Disney. Bug Juice, the summer camp documentary series that aired from 1998 to 2001, is set for a return in 2018. That's So Raven premiered its reboot last year. Boy Meets World's sequel Girl Meets World may have wrapped in 2017, but we're guessing the trend of reviving former favorites is far from over. Call me (I don't have a beeper anymore) when Lizzie McGuire comes back, please.
So, what's the sitch? We'll be looking forward to more details on this Kim Possible project as casting announcements and further info rolls in.