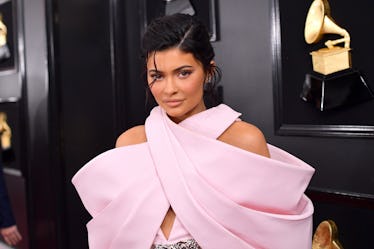 Here We Go Again: Fans Are Convinced Kylie Jenner's New Manicure Is A Sign She's Pregnant
Matt Winkelmeyer/Getty Images Entertainment/Getty Images
Is Kylie Jenner pregnant again? Some fans seem to think so, and it's all because of her latest manicure. The latest fan theory that Kylie Jenner's new manicure is a pregnancy clue has people losing it. She's got some pretty pink nail polish going on, so fans are thinking that maybe she's dropping hints without actually saying anything. Elite Daily reached out to Jenner's team about the speculation, but did not hear back by the time of publication.
So, let's talk about Jenner's manicure for a minute. On Tuesday, March 26, Jenner shared a photo of her new manicure on Instagram. Her nails look great as always, but fans noticed right away that her manicure could be a clue about all the pregnancy rumors floating around right now. For one reason or another, fans have this idea that Jenner is going to announce soon that she's expecting baby No. 2. The speculation is wild.
So, when Jenner posted a photo of her pink nails on Instagram, fans started theorizing about what it could mean. Is she pregnant? Is she going to do a gender reveal? What's going to happen? No one knows for sure, and Jenner certainly didn't give anything away in her Instagram caption.
"Back at it again with nail bae 💅🏼" Jenner wrote in the caption of the post.
Like I said, she gives nothing away here and only refers to her and her friend's manicures. If you haven't seen the photo of Jenner's new manicure, here's a look:
So, what's the deal, guys? Is it a clue or not? I'm not so sure it's a pregnancy clue as much as it is just a random Instagram post, but I can see why people think she might be hinting at something.
Jenner herself has refuted these theories and rumors in a kind of roundabout way. In a March 2019 interview, Jenner told Interview Magazine that while she enjoys being a mom to baby Stormi and wants more kids eventually, she has no plans for future children at the moment.
"I do want more kids but I do not have any plans in the near future to have children right now," Jenner explained.
That right there probably means she's not pregnant right this second, but she may be sometime in the future. In that interview, though, Jenner revealed that Stormi is her top priority at the moment.
"She really comes before me, so that is a lot to take in at a young age but I feel like I was definitely made for this and she has changed my life for the better," she said. "The way that I look at things is a lot more positive and I really feel like my life didn't start until I had her."
So, it seems like Jenner is pretty content to just be a mom to Stormi right now. That's not to say she isn't pregnant or won't be expecting another baby soon, but it sounds like she just wants to live her life and take each day as it comes.