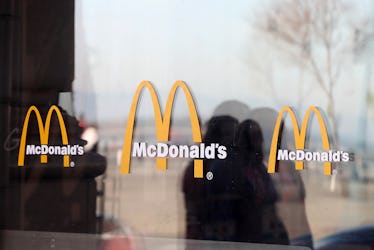 These Friends Are #Goals After Pulling The Prank Of A Lifetime At McDonald's
Justin Sullivan/Getty Images News/Getty Images
A good prank can be hard to pull off, but it's always worth the effort to try. That's why I'm loving this viral story out of Texas where this fake McDonald's poster was hung up by two friends for the ultimate prank. They went above and beyond to pull this off. So much so, that the bogus poster went unnoticed by McDonald's workers and customers for more than 51 days. I seriously can't stop thinking about how smooth the whole ordeal is. These guys are some serious friendship goals. Here's how it all went down.
Jevh Maravilla and his friend Christian Toledo are students at the University of Texas. This all started during a recent meal at their local McDonald's. The pair of friends noticed that none of the advertisements displayed in the fast-food restaurant looked like them.
"What if we put a picture of us on there? Look around there are no Asians in any of these walls," Maravilla, 21, said in a YouTube video about the prank. So, they made the executive decision to become McDonald's poster models, even if that meant doing it on their own terms.
They took a casual photo of themselves together, walking and talking while holding a McDonald's burger and the Golden Arches signature red carton of French fries. Honestly, the whole picture looks incredibly professional to me. I'm super impressed. They made a few edits to the picture before sending it off to Office Depot. To their delight, the poster-sized picture was delivered a week later. But there was still more work to be done before they could hang it up inside of the Pearland, Texas restaurant.
Maravilla and Toledo had to be slick about how they went about hanging the fake advertisement. After all, someone is bound to notice if you just show up to McDonald's with a giant poster, right? Not so fast. To help throw off their scent, Maravilla purchased a $7 McDonald's polo he found at a thrift store. Seriously, what are the chances he finds an actual official McDonald's employee shirt? Again, I'm so impressed. Continuing to play the part, Maravilla created a badge and gave himself the job title of "Regional Interior Coordinator," according to his self-created YouTube video.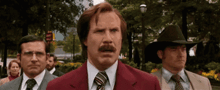 I know what you're thinking? How the hell are they going to pull this off? Fair question. The two friends unwrap the poster and can't stop laughing. They load up the massive poster into Maravilla's dad's car, who helps to transport it, according to their YouTube video. All dressed up in his McDonald's gear, Maravilla enters the restaurant and instructs Toledo and a few other friends of where to position the poster on the wall of McDonald's. Not a single person noticed what was going on. Impressively enough, the poster is stayed up for more than 51 days. The pair told USA Today that, as of Tuesday, Sept. 4, the poster was still up on the wall.
It turns out that McDonald's is actually very much here for the ingenuity. Per an emailed statement from McDonald's, Mariselle Quijano, a McDonald's Franchisee, shared,
We take pride in highlighting diversity in every aspect of our restaurants. We applaud these students' creativity and hope to see them in our restaurants again soon.
Their story has gone viral and the internet is totally eating it up. At the time of publication, Maravilla's tweet about the prank had more than 237,000 retweets and over 946,000 likes. I've got to hand it to these two for a job well done.
Editor's note: This post has been updated with a statement from McDonald's about the poster.