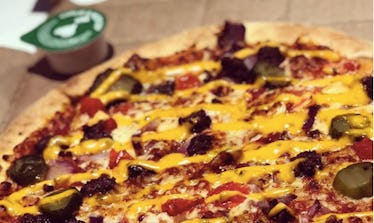 This Domino's Cheeseburger Pizza With Pickles On Top Is The Food Mashup You Need
Overall, I enjoy living in the United States and exploring everything it has to offer, however, the United Kingdom has too many national treasures to count — Big Ben, the royal family, crumpets, and obviously Kit Harington are just a few I can think of at the top of my head. Most recently, though, folks across the pond got their hands on this Domino's UK Cheeseburger Pizza, and I don't know about you, but between a a generous helping of meat, cheese, and, of course, loads and loads of pickles, it's quite literally blowing my mind. Cheerio, America — I'll send you a wave from across the pond.
Domino's and Domino's UK should really consider collaborating, because the British sect of the pizza chain is currently offering a cheeseburger pizza, and if you love pickles and meat, it'll definitely be your pie of choice. Per INSIDER, the base of the pie consists of a regular crust, which is topped with the basics: tomato sauce and mozzarella cheese. Then comes a double portion of ground beef, a layer of sliced tomatoes, some pickles, and for a little added flavor, chopped onions. All of that is topped off with Domino's "secret burger sauce," and if you don't think that sounds absolutely divine, I seriously don't know what will.
It looks like heaven, right?
Anyway, the only downside of this glorious pie is that it's only available in the UK as of right now. That's right — according to Delish, the infamous Cheeseburger Pizza is the glorious creation of Domino's UK, and unfortunately, it doesn't seem to have plans to migrate elsewhere. Guess we're all moving to Europe, my 'za-lovin' American friends.
According to Delish, the official cheeseburger pizza spokesperson at Domino's UK, Ian Straughan, explained the inspiration behind the delectable pie. He noted that pizza and cheeseburgers are both incredibly popular foods, so why not combine the two into one divine meal? That's the kind of logic everyone needs to hear.
According to Delish, Straughan said:
Pizza is the most popular food in the world, and the cheeseburger isn't far behind, so this is clearly a match made in heaven.
If you think cheeseburgers and pizza are a stellar combo, you're most likely a fan of pizza bagels — which — you definitely won't need to leave the country for to snack on. Combining two of the world's greatest carbohydrates, the pizza bagel is a one of life's greatest luxuries, and luckily, they're super simple to make. If you're feeling crafty, definitely try making any of these 22 wildly delicious pizza bagels. They're 100 percent the only way I want to start off my morning.
If you know me at all, you're well-aware of the fact that I'm willing to make a lot of sacrifices in order to eat delicious food. Literally, if that means traveling all the way across the Atlantic Ocean, so be it. There's very little holding me back from snagging a Cheeseburger Pizza all for myself, but honestly, Domino's UK should really just share the recipe. I'm dying to try it.