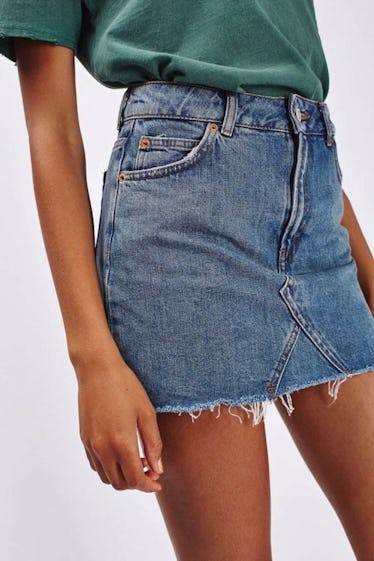 This DIY Denim Skirt Hack Will Turn Your Jeans Into A Sassy Summertime Staple
When it comes to repurposing old vintage clothing, I must admit I don't do it often. Don't get me wrong, my closet is full of retro styles, but I rarely take the time to reimagine them in fresh ways. But a DIY denim skirt recently caught my eye and now I'm dead set on making one of my own. It's not just super trendy but seems pretty easy as well, so if you're not so nimble with a sewing needle, either, don't be intimidated.
Before I get into the how-to, I wan to point out how cool personalized denim is. By creating a garment yourself, you're ensuring that no one else on earth will have the same thing as you. In an age when fast fashion and mass-produced clothing is at an all-time high, it can be hard to find pieces that will help make your personal style just that: personal. And if you're ultra skilled with a needle and thread, paint, embroidery, what have you, you can take personalization to a whole other level.
This denim skirt, though simple, packs a very cool Americana vibe, which is super on-trend right now (thanks to its championing by designers including Calvin Klein and Tommy Hilfiger). I promise you'll walk away loving the piece so much that you'll be glad you didn't opt for cutoffs.
To start, make sure you have a pair of pants with a workable silhouette. Those with a high or mid-rise waist are ideal, and straight-legged or slightly oversized styles work best. (If you try using skinny jeans your skirt might end up feeling and looking way too tight.)
Button and zip the pants and fold them in half lengthwise, with the back pockets remaining on the outside. Lay them on a flat surface and cut off the bottoms of the legs. You'll be able to customize the length of your skirt later, so leave it three inches longer than you think you'll ultimately want. Save the extra material — you'll be using it later.
Unfold the pants, which should now resemble bermuda shorts, and lay them flat, with the front facing up. Cut the seam lines of both inner legs all the way to the crotch.
Cut the seam line that runs from the crotch of the pants up to the button about two inches (not all the way to the zipper). Overlap the side of the cut with the main seam onto the side without the main seam.
Repeat this step on the seam on the backside of the pants.
Take one of the bottoms of the pant legs and cut off the bottom hem. Then, cut it lengthwise along both side seams, until you have two rectangles of raw edge denim fabric.
Use one of the rectangles to fill the triangular gap at the front of the garment (where the space between the pant legs is), inserting it underneath the seams of both legs. Pin it in place.
Repeat step six on the backside of the garment.
Now, get to sewing! If you're skilled with a sewing machine that's the quickest way to get everything stitched up but if all you've got is a needle and thread, that works great, too. Simply sew the denim insert along the existing seams to hide the new stitching, and you're set!
From there, try on your new skirt to decide what length you want it. Mark your preferred hem, remove the skirt and cut at your mark for a raw edge skirt.
To make it extra trendy, remove the back pockets completely to expose the dark wash squares of denim that they've been hiding.
Watch this video below if you get stuck in your crafty process. But trust me, it's pretty intuitive.
Voilà, your very own DIY skirt out of a pair of jeans you won't even miss. See ya next season, pants.