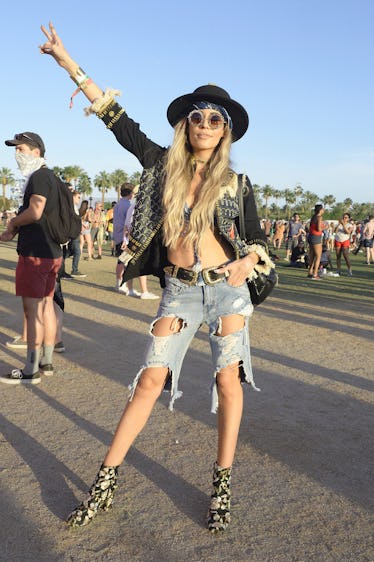 3 DIY Denim Ideas That Will Give Your Old Jeans A Fresh New Life
Matt Cowan/Getty Images Entertainment/Getty Images
If you were to look in my closet you'd see that 80 percent of my bottoms — this includes shorts, pants, skirts, the like — are denim. A Canadian tuxedo enthusiast, I buy pair after pair of thrifted Levi's with the intention of one day using them to test out a few DIY denim ideas that have been floating around in my mind. While vintage Levi's 501 jeans are literal perfection in a pant, you can't walk down a single Brooklyn block without seeing another person rocking a pair. So, I figure, why not put your own spin on the style for a unique clothing item that's all your own?
If you're not into vintage shopping that's cool, too. I may not understand you (how does one resist the softest t-shirts on earth or wacky '70s prints?!) but I respect your sartorial preferences all the same. Luckily, the below DIYs can be done on all types of denim, so long as the pants have the right silhouettes. All you'll need to execute the transformations is a pair of scissors, meaning no stitching, patching, hemming is involved. (Quite the opposite, in fact!) So if you've got an old pair of jeans or two laying around in your closet that could use a unique and personal upgrade, try out one of the techniques below. Hello, new blues!
The Raw Crop
The fact that cropped pants are in is nothing new. From kick flares to cuffed jeans and everything in between, pants with hit just above the ankle have been talking over runways and the streets alike for the past couple of years. Thankfully, altering your existing denim to embody this trend is easier than making a cup of coffee with a Keurig. All you have to do is put on your pants — I'd suggest a pair that is not ultra form-fitting like straight-legged, boyfriend, or flared styles — look in a mirror, and mark where you want your denim to be cropped. For me, two or three inches above my ankle bone seems to be the sweet spot. Snip the hems off and voila! A new pair of DIY distressed jeans awaits you. My favorite thing to pair such bottoms with is a high heeled, mid-calf bootie.
The Picked Pocket
If you're not one to carry things in your back pockets, this is the DIY for you. It simply consists of removing both back pockets to a pair of denim by using your scissors to gently cut at the stitches holding them on and delicately pulling them out, eventually removing both pockets altogether. Why, you ask? After years of washes and exposure to the sun, most denim tends to fade in color significantly. But the fabric under the protection of the back pocket tends to fade much less by nature. Removing the pockets will therefore result in two squares of darker wash denim, which will provide an interesting contrast and unique details against the rest of the standard pant. This is one DIY that works for every jean shape.
The Short Order
I know, I know, denim cutoffs are about as classic as you can get when it comes to shorts. Go to any current retailer and you'll find racks upon racks that have already been cut for you. Why do it yourself, you ask? I find that pre-cut shorts never fit my body how I want them to — one crop actually does not fit all. The legs are either too short or cropped at an awkward angle, and I spend half my time wearing them pulling them down or picking at a denim underwear wedgie. Cute!
To avoid this happening to you, put on the pants that you wish to cut — high waisted pants, either straight-legged or boyfriend style, work best — and measure about three to four inches down the inseam of each leg. Make marks there. (Err on the side of what you think might be too long, as when raw-edge denim is washed it will often fray and shorted a bit.)
Then, remove your pants and button and zip them back up, matching the top of the front waistline to that of the back waistline. Find the marks on the inseams and begin to cut the legs of the pants off, angling your scissors up at a slight angle as you cut towards the outer seams of the pants. This will allow the hams of the legs to be straight once your pants are on. Voila! Not-too-tiny cutoffs that you can personalize based on your shorts preferences are finished.