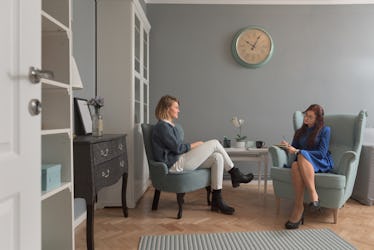 10 Wisest Pieces Of Dating Advice People Got From Their Therapists
When my head hurts, I sometimes take an Advil. When my back is sore, I might schedule a physical therapy appointment. When my heart aches, I always schedule a therapy session in an attempt to cure it... or at least begin curing it. I am an avid advocate of therapy. My therapist has helped me through many hard times, including a few (read: many) moments of heartbreak. When it comes to relationships, dating advice from therapists can be the best kind of advice to seek out because unlike your friends, therapists are an unbiased third-party. (Plus, you're paying them to listen.)
If I had to choose one piece of advice that my therapist has offered me that has truly changed the way I think about love and relationships, it would be this: "Ask for what you want." Too often I've played the "chill girl who isn't needy" in half-relationships, or spent my time sifting through Instagram likes in order to find out if someone I am seeing is also seeing every other woman in Manhattan, when I could have just asked them for some clarity.
It used to be incredibly hard for me to ask, "Are you dating other people?" or "Do you want to be exclusive?" Because I didn't ask these questions, I often found myself in torturous dating purgatories that ended up in heartbreak. Therapy changed the way I see my role as a woman in relationships with men, and now I finally (sort of) know how to ask for what I want.
While my therapist has given me excellent advice over the years, I'm a greedy lady, and I wanted to know what other superb relationship advice friends, family, and people of the internet have received from their therapists. I asked 10 people to share the best piece of relationship advice they received from their therapists. Here's what they told me.