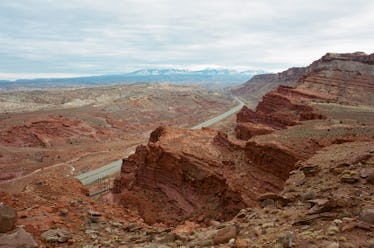 This Couple Got Married 400 Feet Above A Canyon On A Rope Net & The Photos Are Stunning
There are plenty of cool ways to spend your wedding. You could go for a sense of nostalgia with a classic spiritual ceremony at the place of worship you grew up going to. You could go for a relaxed, laid back vibe with a beach wedding. You could go for the MOST laid back vibe possible with a quick ceremony at your local City Hall. You could go for the glam effect and have a beautiful wedding at The Plaza. Or you could do something TOTALLY different, like one couple's wedding on a rope net in Utah.
California couple Kim Weglin and Ryan Jenks' love story already started in an extreme way. Their wedding photographers, Abbi and Callen Hearne, write on their website, The Hearnes, that the couple first met in Moab, Utah, at a high-lining festival called GGBY. Last year, Ryan proposed to his daredevil soulmate at the same festival. Needless to say, it was only logical that they'd get married at the same place.
While all of us have already gotten used to seeing about 97 versions of the same three wedding ceremonies, Kim and Ryan decided to do something totally different. The couple made their wedding more than just a union of their two lives; they made it an extreme adventure. After getting engaged on a rope net as well, according to The Hearnes, they knew they had to celebrate with the most epic wedding ever. For their ceremony, the rope net was stretched literally 400 feet above a freaking canyon in Moab, Utah. This sounds absolutely terrifying, considering balancing on a rope just four feet above the ground sounds scary enough as it is.
It wasn't just any rope net the couple got married on. It was a rope net made with looooooove. According to The Hearnes, the best man of the wedding, Andy Lewis, created it for them and made sure it was secured on all sides to ensure their safety. He also happens to be into extreme sports because, well, duh, why wouldn't he be?. And, don't worry, the couple didn't sacrifice having a traditional aisle at their wedding just because they were balancing in midair. Andy (what a hero, amiright?) added an "aisle" section to the net for them to walk down.
And Andy wasn't their only friend who also happened to be an extreme sports enthusiast. In fact, The Hearnes writes that one of Kim's favorite things about GGBY is "the amount of things going on in the relatively condensed space." So she kept that trend going by enlisting the help of some of her most athletically inclined friends. Throughout the ceremony, she had friends doing aerial stunts, acro-yoga, flying over the nuptials in paragliders, and walking high-lines. As if all of this wasn't wild enough as it is, Kim and Ryan's "flower girls" literally parachuted off the edges of the cliff one-by-one, while wearing tutus and releasing thousands of flower petals.
Their more artistically inclined friends also played their part in making the day special. They had a friends painting a portrait of the wedding, playing it up on the flute, and even blowing enormous bubbles, because why not?
The most badass part of it all? The couple substituted the traditional "I do" with a "Hell yeah," according to The Hearnes. Now, tell me they aren't the coolest couple you've ever heard of. Oh, that's right. YOU CAN'T.
Cheers to this edgy, adventurous couple. Here's to hoping we all wind up even half as cool as you guys are.
For more pictures of the couple's epic wedding, visit The Hearnes' website, Facebook, or Instagram.
Check out the entire Gen Why series and other videos on Facebook and the Bustle app across Apple TV, Roku, and Amazon Fire TV.
Check out the "Best of Elite Daily" stream in the Bustle App for more stories just like this!