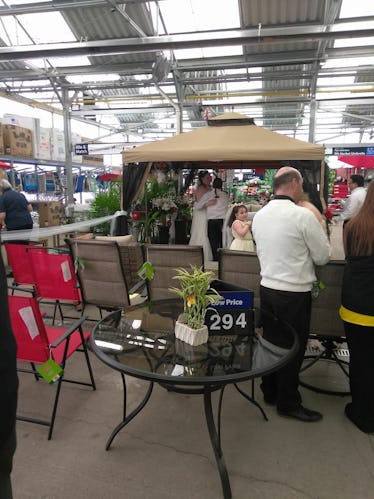 This Couple Got Married In A Walmart & The Reason Why Will Actually Wreck You
A few weeks ago, my dad FaceTimed me with a smile on his face bigger than I'd ever seen before. Let me be clear: He's not a grumpy guy. But this day, he was literally the happiest I had ever seen him, and I just had to know why. Well, it turns out he had just come back from his first trip to what he referred to as "The Most Magical Place in the World," aka Walmart. Apparently, my dad wasn't too far off on his description, seeing as a Pennsylvania couple got married at Walmart this past Saturday.
I know, I know, I know. While Walmart does have some dreamy deals when it comes to saving a few bucks, it's not exactly the first place that comes to mind when brainstorming dream wedding venues. But when you hear the reasoning behind Leida Torres and Chrissy Slonaker Torres' decision to get married there, you'll understand why it made the top of their list.
USA Today reports the happily married couple first met in 2015, when Leida started as a manager at a Walmart in West Manchester Township, Pennsylvania. Needless to say, after having their entire love story unfold at their place of work, they wanted their co-workers to be a part of their special day when they got married this past Saturday. The only issue was some of their co-workers couldn't get the day off! So, naturally, they decided to bring the wedding to them.
According to USA Today, the Torres family's love story began with some mild flirting. Finally, Leida was the one to take it to the next level. "One day when it was snowing, she asked if I could come pick her up since I have a truck," Chrissy told USA Today. "When she got in the truck, she said, 'So, are you going to go on a date with me?'"
Despite Chrissy's fear of another relationship going south after the failure of her first marriage, she agreed to go and a few days later, the couple went on their first date to the National Aquarium in Baltimore.
From there on out, they were totally in love. "I found my soul mate, finally," Leida shared. "She's the love of my life." Then, in December 2017, they were engaged.
The original plan was for the couple to have a small, quiet wedding ceremony at their home in York, Pennsylvania, according to USA Today, but they couldn't bear the thought of having a ceremony without all of their co-workers present.
You see, the couple have an extremely close relationship with the people they work alongside at Walmart. In fact, Leida referred to them as "family." With the store being open 24 hours a day, seven days a week, there was just no way at least one of their "family" members wouldn't have to be working during the ceremony.
"We both have a lot of really close friends that we call family in our Walmart store," Chrissy told USA Today. "We discussed it with the store manager and the home office so that everybody in our store — everybody that we share our lives with — can be a part of the wedding."
Leida was totally on board with the idea, and the next step was for the couple to run it by their friends over at work. As you can imagine, their work family was over the moon about the thoughtful attempt to include them on their special day.
"They felt blessed that we chose to do it at the store just to have our special day with them," Chrissy said.
On the day of the wedding, their coworkers turned the garden center into a wedding destination, and they were married by Robb Green, the former "Marrying Mayor" of Jefferson, Pennsylvania, according to USA Today, while more than 100 family members, co-workers and customers watched.
"It was beautiful," Leida said. "I just loved it."
"We were nervous for a bit, but we were excited," Chrissy added. "It sunk in when we were doing the vows that this is forever. This is unconditional."
Congrats to the happy couple!
Check out the entire Gen Why series and other videos on Facebook and the Bustle app across Apple TV, Roku, and Amazon Fire TV.
Check out the "Best of Elite Daily" stream in the Bustle App for more stories just like this!