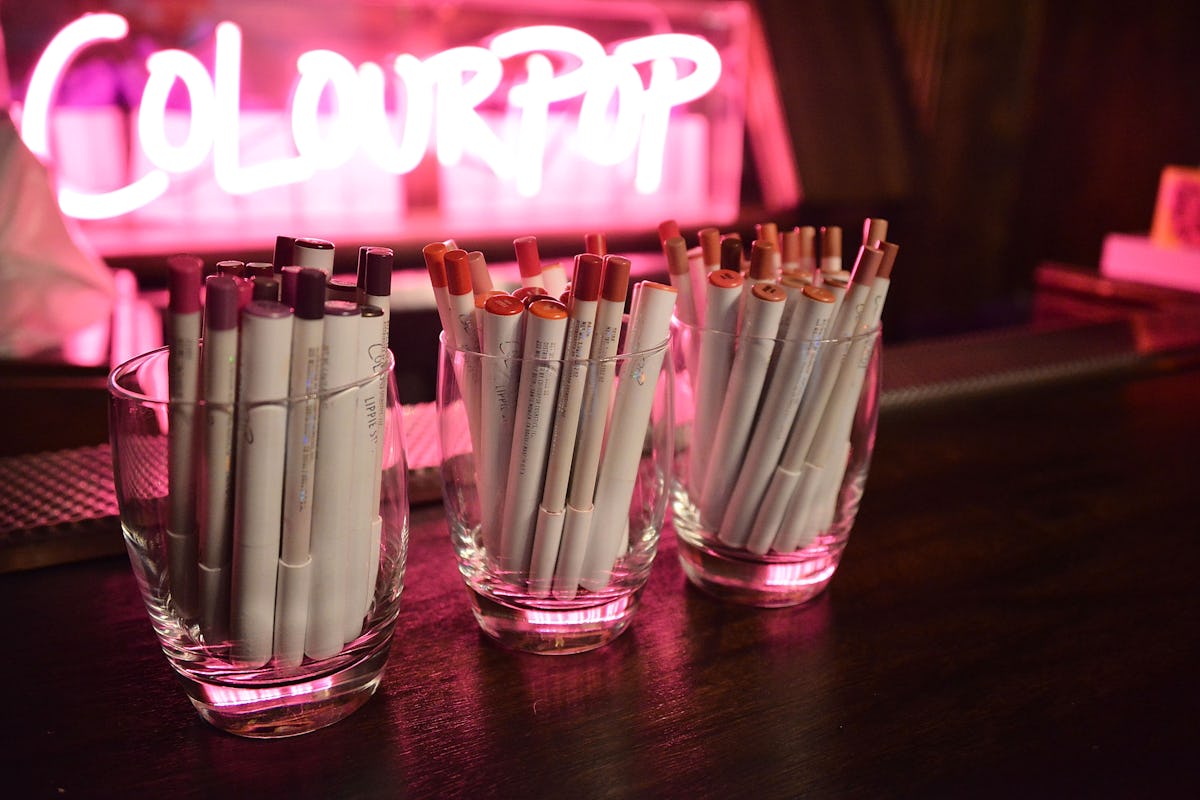 ColourPop Is Having The Biggest Sale Of The Year, In Case You'd Like A Free Palette
Araya Diaz/Getty Images Entertainment/Getty Images
Seasonal discounts seem to be the gifts that keep on giving this year. Whether it's because brands want to keep the generous spirit of the holidays alive, or because they're attempting to avoid a post-Christmas sales slump, they're slashing prices to unbelievable lows. Case in point: the ColourPop Cosmetics sale is the biggest in history (according to the brand itself!), and is offering impressive discounts on pretty much every product it produces. I'll give you a minute to get over to the ColourPop website.
ColourPop is known for its inventive products, like crystal-infused skincare and collaborations with celebrity influencers. Although no official date has been announced regarding when the amazing sale will end, the brand is currently offering customers 30 to 40 percent off some of its bestselling items and 20 percent off everything else. This means you can score a fan favorite 12-shade eyeshadow palette for as low as $11 or a matte liquid lipstick for $4. Newly launched items are included in the sale too, meaning ColourPop is not skimping on its offerings. If you need to restock your makeup cabinet, now's the time to do it.
What's more, the brand announced via Instagram that anyone who purchases more than $50 of products on its website will receive a free Golden State Of Mind eyeshadow palette, which is on its bestsellers list (and typically retails for $26). The palette boasts 15 shades of shimmery pressed powders that range from an icy blue to a cool rose. The deal is happening through midnight on Dec. 26, so I would highly encourage you to make your purchases now. You'll also get free domestic shipping for purchases over $30, and free international shipping for those over $50 as part of the ongoing sale.
Seeing as ColourPop is known for its constant turnover (it discontinues and re-adds shades more than any other cosmetics brand, according to Bustle), if you see something you like on the website now, you should really snag it before it's gone. Here are a few of the sale's best deals.
Down To Earth
Featuring 12 eyeshadows in both metallic and matte shades, this palette is the only selection of neutral shades you'll need. Considering each hue is essentially costing you less than $1, it's also a steal.
Time To Reflect
For when one shade of highlighter isn't enough, this pack of three should do the trick. The highlighters come in gold champagne, silver pearl, and iridescent pink, so you can pick your strobe depending on your desired makeup look.
Smooth As Satin
One of what seems to be about 1,000,000 shades of lip color on sale, I love the brick red tone, as well as its satiny finish.
Brow Game
I have super blonde eyebrows, so filling them in a medium brown really helps define my face. Brow pots have always been a favorite of mine for their convenience and precision.
Are You Gellin'?
Once your brows are expertly drawn in (or not), this non-crunchy gel will help keep them in place and perfectly shaped. Because perfectly arched brows are a thing of pure beauty.
Technicolor-ly Speaking
For those of you who don't stick to neutrals when doing your eye makeup, there's this wonderfully bright My Little Pony palette. From hot pink to shimmery turquoise, its shades are anything but boring.
Get Cheeky
This pressed powder blush comes in an array of shades, but I love this flirty peachy one. It adds the perfect amount of natural looking flush without looking overly saturated. It's also matte, meaning it won't appear overly shiny if used in tandem with a highlighter.
Matte About It
If a satin lip finish isn't you thing, try out ColourPop's matte options. They're still super smooth, but remain transfer-proof for the whole day.