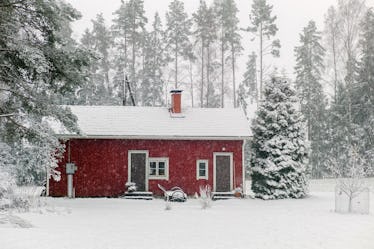 You Can Apply For This "Christmas Elf" Job In Finland To Live Out Your Holiday Dreams
I'll be completely honest — working through the holidays can be kind of a drag. Even if your entire office is covered floor-to-ceiling with all of the tinsel, mistletoe, and candy canes in the world, there are very few things that feel sincerely "merry" about a 9-to-5 desk job. So if you'd rather be working one of the most joyful gigs out there this holiday season, this "Christmas Elf" job in Finland might seriously be the perfect profession for you. As a Christmas fanatic, I know it's definitely mine.
Lapland Safaris is a Finland-based tour and event organization company, and they're currently seeking out a few winter-loving "elves" to work from November 2018 through January 2019 in Saariselkä, Levi, Rovaniemi, Hetta, Olos and Ylläs. According to the Lapland website, each and every Christmas elf must be friendly, and optimistic. Speaking English is essential, while the ability to speak other languages like French, Spanish, and German is highly beneficial.
Lapland's Christmas elves have a wide range of responsibilities. Per the job description, you could be responsible for leading tourists to their buses, handling snow mobiles, or doling out tourist information. No matter the task, though, the site does highlight, "An Elf is at the same time an entertainer, a guide, and a mythical creature of Christmas." TBH, being a Christmas elf sounds like pretty hard work, but if you have basic Christmas cheer, I'm sure you'll be a perfect fit for the job.
As you'd probably assume, one doesn't just magically transform into a talented, working Christmas elf without any training. I mean, really, even Santa needs a help in the workshop before each holiday season starts. And since "elfing" isn't a simple profession in any way, shape, or form, Lapland actually hosts an Arctic Hospitality guide, prior to the gig. According to the job posting, it's basically a massive training session for all incoming elves. You'll go through various workshops to attain required "elfing" skills, to become the best and most spirited communicator out there. I have faith in you, and if you're ever doubting yourself, just remember: "The best way to spread Christmas cheer, is singing loud for all to hear."
Since this undoubtedly is the opportunity of a lifetime, spaces for Christmas elves will likely fill up kind of quickly. So, if you're interested in spending the holidays in the actual North Pole, just navigate to Lapland's Christmas Elf job application on their website. You'll enter all of your basic personal information, along with a description of yourself, any licenses or certifications you might have, skills, education, and work history. Elite Daily reached out to Lapland Safaris about the last date to apply, but did not hear back in time of publication. So, if that all sounds good to you, I'd apply like, right now.
If elfing isn't quite your thing, however, Lapland also offers various jobs for holiday enthusiasts... like Safari and Husky Guides. Yes, you heard that correctly — by logging on to the European Job Military Portal, you can apply for the job of your dreams, whether it's playing with snow dogs, or taking pictures of The Northern Lights. The deadline for the application is soon, though — on Oct. 14 — so make sure to get on that as soon as possible.
Christmas only comes once a year, and spending it cooped up in an office isn't quite what I'd call "merry." So, grab your jingle bells and elf hat, and get ready to celebrate Christmas in the North Pole.