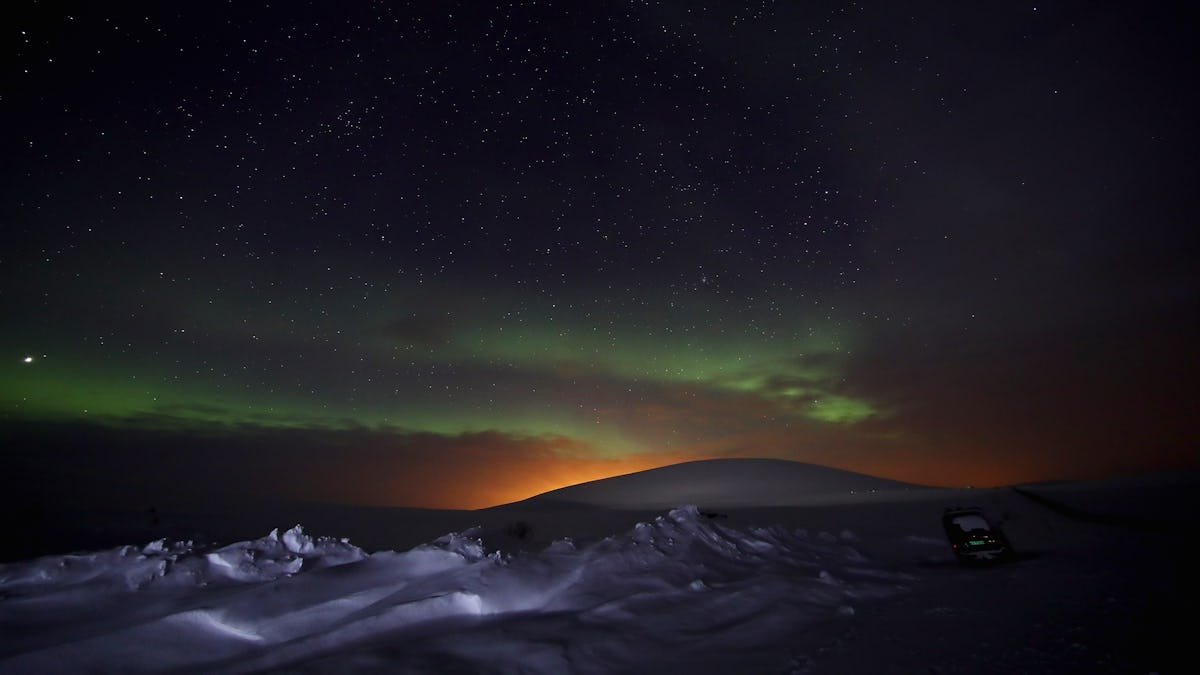 You Can Get Paid To Play With Dogs & Watch The Northern Lights, So Apply Now
Dean Mouhtaropoulos/Getty Images News/Getty Images
If you're reading this at the office right now, that could be a sign that it is time for a career change. Forget the boring old office cubicle and endless meetings, because this Finnish dream job will pay you to watch the Northern Lights. I know what you're thinking. Changing professions is easier said than done, right? Sure, maybe. Although, the perks of this gig in Finland will have you feeling ready to apply in a heartbeat. It's time to dust off your resume because the best is yet to come.
According to Forbes, several dozen companies in Finland are looking to hire a range of different jobs. Most of the positions will afford you the chance to catch a glimpse or two of the Northern Lights all while getting paid for your time. The Northern Lights look absolutely stunning. If there's a better career setup out there, I've yet to come across it. Looking up to see the pretty green and purple sky sure beats staring at a desktop computer all day.
Now, on to the important stuff. If you are looking for a career change, you might find it in one of the open job postings. The very official gig titles include a Winter Safari Guide, Husky Wrangler, Photography Tour Leader, Santa's Helper, and Wilderness Cook to name a few, according to Forbes. So, yeah. Basically, you can ride snowmobiles through some of Finland's prettiest mountains, play with adorable Husky pups, and use your professional photography skills to snap pictures of the colorful Northern Lights. Best of all? You'll get to do it as your full-time job. Living your best life is about to take on a whole new meaning thanks to these once-in-a-lifetime opportunities.
To apply for these gigs and more, head on over to the European Job Military Portal to check out the details for each position. Most of these jobs start in November or December and last until the end of March 2019. The sooner you apply, the better. Many of the application deadlines close within the next several weeks. For example, the last day to apply for the Husky Wrangler position is Sunday, Oct. 14, and the application deadline for the Photography Tour Leader is Sunday, Sept. 30.
Regardless of whether or not you're seeking a new job, the Northern Lights are one of those experiences you should probably at least do once in your lifetime. It's still on my travel bucket list, and I hope to check it off in the very near future. Luckily, flights to Finland are usually fairly affordable. In August, Scandinavian Airlines offered $500 flights from the United States to the Nordic region. While those discounted fares are no longer available, keep your eyes peeled. It seems likely that another cheap fare sale is on the horizon.
According to National Geographic, the best time to see the Northern Lights in Finland is from September to March. If you are selected for a spot, you'll be there during prime Northern Lights viewing time. Don't forget to pack your warmest boots knee-high snow boots, puffer coat, and mittens (preferably the touchscreen kind). Just remember to snap a few pictures of your dream job for the 'gram.