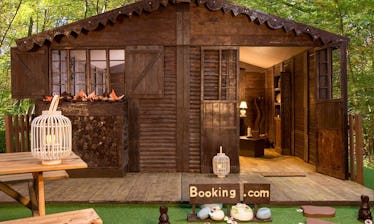 You Can Sleep In A Cottage Made Out Of Chocolate For $59 For A Limited Time
Booking.com
Forget about booking a stay at a treehouse or a castle, because Booking.com's most unique accommodation offering is a one-of-a-kind spot that (chocolate) dreams are made of. That's right: this chocolate cottage in France lets you channel Willy Wonka IRL with a life-size bungalow made completely and totally out of your favorite cocoa-based confection. Ever dreamed of sleeping under a chocolate roof or brushing your teeth at a marbled chocolate sink? This sweet experience can be yours for only £50 (which translates to about about $59 U.S. dollars) per night, so I'd get to booking ASAP.
According to a Booking.com press release, the company is putting its own spin on Hansel and Gretel's candy cottage with a fairytale abode that you can visit in real life. The Chocolate Cottage — which is located at the L'Orangerie de la Manufacture in Sèvres, France — is available for bookings starting 5 a.m. ET on Wednesday, Sept. 26, so you're not going want to sleep through this delicious opportunity to spend a night slumbering whilst surrounded by all the chocolate your taste buds could desire.
Chocolatier Jean-Luc Decluzeau is behind the design and build of the 18-square-meter cottage, which reportedly took about 1.5 tons of pure chocolate to erect, per the release. The resulting Chateau du chocolate is an unparalleled cocoa beauty, featuring a detailed brick fireplace, wine bottles, clocks, chandeliers, and dressers all made out of the good stuff. In addition to all the extra chocolate that's on hand for munching, you can literally take a bite out of a chocolate novel or check out your reflection in a chocolate-embossed mirror. Step outside, and you can bask by the duck pond (made entirely out of white chocolate) and imbue your senses with a chocolate flower bed. Basically, it's heaven in chocolate form, and you're going to want to vie for the next available booking date on either Oct. 5 or Oct. 6. Your sweet tooth depends on it.
According to the booking listing, the cottage is located inside the glass L'Orangerie Ephémère at the Musee de Sevres (probably to keep it safe from the elements and any potentially disastrous temperature changes), and it can accommodate up to four guests at one time. Plus, it comes with some pretty sweet perks which, at only $59, are a total steal.
Not only can the lucky guest enjoy a stay surrounded by all things chocolate, but the idyllic getaway also offers a workshop with chocolate sculptor extraordinaire Decluzeau which includes making your own personalized mini chocolate cottages as well as a delectable dinner and breakfast by the pond. While they haven't shared a menu yet, I have a feeling that you're definitely going to want to save some room for dessert.
"I never thought I'd have the opportunity to build a life-size Chocolate Cottage for travelers to sleep in!" Decluzeau, aka the chocolate architect, said in a statement in the press release. "I'm excited to collaborate with Booking.com and to share my passion for chocolate. I hope guests will relish the chance to experience such a sweet and unique place to stay."
Unsurprisingly, the demand for a stay at the Chateau du chocolate for less than $60 a night is pretty high, so it's worth setting your alarm clock a little earlier than normal to beat out other chocaholics when the listing temporarily opens on Wednesday, Sept. 26. Now, all you have to do is worry about drafting the perfect "OOO" message, because let's be real, no one's got time for answering emails when there are mountains of chocolate to be had.