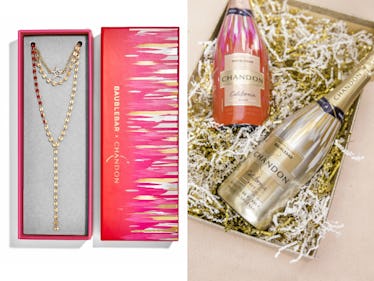 The Chandon & BaubleBar Collaboration Is The Most Popping Gift Of Fall 2018
I love wrapping presents for every occasion, but I hate shopping for the actual gifts. I never know what to give people on their birthday, for the holidays, housewarming parties, or their wedding showers. I feel like champagne is never a bad idea, but what's the one thing that can make a pretty bottle of bubbly even better? How about matching it with piece of sparkly jewelry? This Chandon California x BaubleBar collection just made gifting your besties a whole lot easier, by collaborating on three gifts perfect for any of the BFFLS on your gift list.
Chandon California collaborated with BaubleBar on two really pretty bottles that make gifting champagne even more fabulous. Whether your BFFs prefer a crisp Brut or a fruit Rosé, you can gift them one of these new Chandon California bottle designs that feels even more glamorous than the classic. The bottles are covered in metallic brush strokes inspired by BaubleBar's cute tassel jewelry. The Chandon Brut bottle is super classic in a shiny shade of silver with streaks of glimmering gold and white painted along the neck of the bottle. But for the girls who like to make a statement, the Chandon Rosé bottle is hot pink with metallic ribbons dripping down the sides. As if that wasn't cute enough, each bottle says, ""Born to Be Bubbly. Made to Sparkle."
No matter which one you choose to gift, they both feel girly, glamorous, and totally timeless — it's all very Marilyn Monroe in Gentlemen Prefer Blondes.
Now for the jewelry, BaubleBar designed the #ChandonSquad necklace inspired by the champagne brand that is a new twist on their most popular style. It's a three-strand gold necklace that takes the guessing work out of layering. The first chain features an on-trend celestial motif that is the iconic Chandon star in a rhinestone pavé, which is perfect for everyone from zodiac enthusiasts to fashionistas. The other two chains are reflective and add sparkle to any outfit, one of which has a dropped chain that looks so sophisticated with a low cut top or dress.
I told you your days of searching for the perfect gift are over. No more spending hours aimlessly searching through department-store aisles and filling virtual shopping carts with things you can only hope won't end up being regifted.
The silver Brute bottle, the hot pink Rosé bottle and layered necklace are all sold seperately, but if you're shopping for someone really special, they're all affordable enough to really spoil those closest to you. Each Chandon x BaubleBar Limited-Edition bottle is available on the brand's website and at select retailers nationally for $24.
The Chandon x BaubleBar Limited-Edition necklace will also be available on BaubleBar's website and Chandon's website for $48.
Here's the catch though, the champagne bottles and necklace are only available while supplies last, which means you need to act fast because once they're gone, they're gone. Stock up on some of these limited-edition offerings now, and you won't end up scrambling to find the perfect gift at the last minute. After all, the holidays are coming in hot.