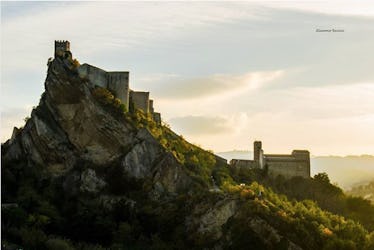 You Can Stay At An Italian Castle On The Cheap If You Want To Feel Like Royalty
When you're 20-something years old and you're living on a relatively strict budget, going on cool vacations can be wicked hard... that is, unless you're willing camp in a tent, couch surf, or share a room with 15 other people in a hostel. And even though that doesn't sound like the worst trip in the world, you can literally live like royalty for a little over $100 per night at this Castle in the Sky in Italy. It's yours to stay in for only $114 a night (yes, you read that correctly) and if you ask me, it would almost be a crime to pass up on this glorious opportunity. I'm already searching for flights.
If you're well-versed in Italian geography, you're probably aware of the village of Roccascalegna, a small town upon the cliffs of the Sangro river in the Abruzzo region of Italy, according to Castello Roccascalegna. Amidst this teeny tiny (and relatively modern) village, however, there's a totally refurbished medieval palace called Castle in the Sky. Sitting on the edge of a cliff, according to Travel + Leisure, it's about 7,500 square feet, and it's complete with a chapel, tower, dungeon, various gardens, and several rooms. You can stay there for about €100 (which is equal to about $114 USD) per night, and I don't know about you, but this is definitely at the top of my list for birthday getaways next year.
Based on various historical records, it's roughly estimated that Castle in the Sky was built around 1525, according to the castle's website. So, as you would probably imagine, it's a major destination for ghost hunters. Yep, that's right — legend has it that the castle has a pretty dark and sinister history filled with evil barons and murder. It was reportedly abandoned in the 17th Century, though, before eventually getting overtaken by the Roccascalegna commune. Then, it underwent restorative work starting in 1985, which was finished by 1996. Now, it's yours to sleep in overnight... if you dare. JK, it honestly sounds like a dream destination if you ask me.
According to CNN Travel, the village's mayor Domenico Giangiordano hopes this newly-renovated destination will bring Roccascalegna more tourism to ultimately reboot the town's declining economy. At a tantalizingly-low price, he hopes it will attract large crowds of people who are looking to travel on a budget.
Giangiordano told CNN Travel:
It's a real low fee, practically a tip. Our goal isn't to raise cash but to use this unique setting to revamp the local economy by luring an elite clientele who loves tiny, offbeat spots.
If you're more about getting spooked than pampered, check out these six haunted hotels that'll be perfect for your next vacay. Whether you're planning on venturing down south, out west, or if you're planning on staying on the East Coast, there are so many freaky options you definitely won't want to miss.
While traveling can rack up a lot of cash, staying in a castle in Italy is surprisingly low budget. Whether you're staying with a pal, by yourself, or with your entire family, this looks like the perfect (and completely regal) get away. Put your crown on and get your scepter ready, because for the duration of your stay, you'll be ruling those gorgeous Italian cliffs.