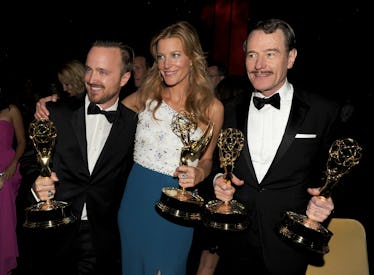 The 'Breaking Bad' Cast Just Had An Epic Reunion & You Need To See It ASAP
Kevin Winter/Getty Images Entertainment/Getty Images
2018 marks 10 years since Breaking Bad premiered, becoming one of the best shows in television history. The AMC favorite made a massive contribution to the so-called small screen "golden age" the world is now living in and enjoying, running for five thrilling seasons of powerful storytelling, riveting performances, and memorable moments fans are still quoting today. ("Say my name," anyone?). If you're looking to get nostalgic about the show's impact today, this Breaking Bad cast reunion should do the sentimental trick. Missed you guys!
Entertainment Weekly brought the Breaking Bad gang back together again for their upcoming issue and additionally sat down for a roundtable with Aaron Paul, Bryan Cranston, and creator Vince Gilligan. There's also a video cast interview on PeopleTV. The man behind science-teacher-turned-drug-lord Walter White himself, Bryan Cranston, opened up about what it felt to hang with his former work family again. Apparently, you can take the actor out of Breaking Bad, but you can't take a groundbreaking show like Breaking Bad out of the actor. The Emmy-winning actor explained,
You can't just move on. Something that was so indelible and meaningful in your life and you can't, and I don't want to. I want to hold on to those good memories of that gathering, both then and during our seven years together. So, it's a bit melancholy, actually. Bittersweet.
Breaking Bad was a hit for AMC, garnering a loyal fan base and critical acclaim throughout its run. The show received 16 Emmy wins over the years and was nominated a whopping 58 times. Cranston was the lead drama actor to the beat between 2008 and 2014, though Homeland's Damian Lewis picked up the award in 2012.
The series showed off Cranston's incredible range — prior to the show, he was best known for his comedic portrayal of Malcolm in the Middle's goofy patriarch and Seinfeld's creepy dentist, Dr. Tim Whatley. It also took Anna Gunn (who played Skyler White) and Aaron Paul's careers to new heights. The show's influence is not lost on Paul, whose turn as Jesse Pinkman earned him three Emmys. The actor still has gratitude for being a part of something so iconic. He told EW:
I feel blessed to have shared this incredible experience that is Breaking Bad with each and every one of these people. I remember when we were shooting the first season, Dean and I were talking, he goes, 'You know, in ten years, we're going to look back and say, 'Goddammit! I used to be a part of Breaking Bad!' And now it's crazy that 10 years has passed, and I am still constantly thinking that.
Celebrated writer and performer Bob Odenkirk put his enduring stamp on the show in the form of lawyer Saul Goodman. The character even spawned the AMC spinoff, Better Call Saul. The show is its own TV success story — it's about to kick off its fourth season on August 6 and has 23 Emmy nods to date.
Audiences are living in the land of reboots nowadays, so is a Breaking Bad revival a possibility? With its prequel still airing new episodes, the concept doesn't exactly seem necessary, but that doesn't mean people aren't sparking rumors. Hey, even Aaron Paul believes them sometimes:
There's always the chance that Walter White and Jesse Pinkman will hit up Better Call Saul. Gilligan has said he's open to revisiting Paul's character and Cranston has expressed interest in a cameo.
"So the bottom line is I would do it in a second. If Vince wanted me to be on the show, I'd be on the show," Cranston revealed to Nerdist.
For now, a tender real-life reunion will have to do. Entertainment Weekly's Breaking Bad cast reunion issue hits newsstands Friday.