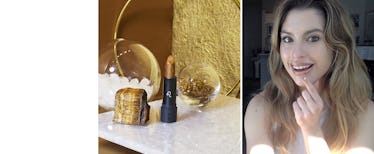 Bite Beauty's Gold Lipstick Looks Ferocious On Any Zodiac Sign (But It Was Made For You, Leo)
Metallics are in, no doubt. I've been noticing an influx of sheeny palettes, glosses, and lipsticks on the market, and I'm loving that anything goes in terms of glitter these days. If you agree, listen up: This Bite Beauty Leo Lipstick review will make you want to guild your lips.
ICYMI: Earlier this year, Bite Beauty announced the brand would be launching an astrology-inspired lipstick collection. The collection features one new, unique Amuse Bouche lipstick shade for each of the twelve star signs. Each lipstick shade is released one by one during the sign's ruling month. The collection began with a deep purple Aquarius hue in February, and it has been churning out some equally as titillating hues in the months since (seven so far). Like any good lipstick lover, I'm visually aroused when I peep the following month's color. Most of the time, I've drooled a lil bit (Gemini's dual-sided bullet, tho!) but today, when I snuck a look at the newest shade, Leo, I straight up squealed with delight.
The shade is straight up I-just-kissed-Midas gold. That said, it's not chunky, tacky, or flaky. Rather, it has the same dreamy, ridiculously creamy formula of any other Bite Beauty Amuse Bouche lipstick, thanks to castor seed oil, jojoba, shea butter, and a host of other nourishing, food grade ingredients. This lipstick features a finish that could be better described as a glittery glow more than an opaque metallic; from far away, the gold flecks make my lips look almost as if they're glazed with a lipgloss. Incidentally, this formula plays well with other lipsticks. Layer it over virtually any other color and voila — you have yourself a slightly sparkly (read: slightly better) version of the lipstick you were wearing.
I'm really hoping it's not a faux pas to don this shade as my Aquarius self, because I honestly can't resist this lipstick (or anything shiny, for that matter). Sorry for stealing your shine, Leos!
The reason this stuff can still look sparkly and still as smooth as a seal is that the gold flecks are so incredibly finely milled. Add that to the fact that this pigment is super buildable, and you've got yourself a lipstick that's as good as gold.
As per the brand, the shade is "inspired by the shimmering mane of a lion," and is reflective of the Leo's fierce, attention-grabbing persona. I'm naturally pretty shy, but I've gotta admit: this hue does give me a little bit of those Leo vibes that I need to peek out of my shell.
For $26, you can spread some Leo Love loud and proud. (Or you could just play poser à la moi and slick this stuff on regardless of what your star sign actually is.)
Not to stress you out, but if you have any inclination of splurging on this gorgeous gold lippie, you probably don't have too much time to hem and haw. After all, every single one of the Bite astrology collection lipsticks is super duper limited edition. In fact, these lippies are only available 'til they sell out — and my prediction is that a lipstick as gorgeous as this one will fly off the shelves faster than you can read your daily horoscope.
The Bite Beauty Leo Lipstick ($26; bitebeauty.com) is available online and in Sephora stores right meow.