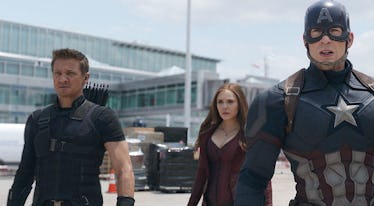 Jeremy Renner May Have Just Confirmed A Major 'Avengers 4' Theory In This Tweet
Marvel
There are about 14,605,283 theories floating around the internet about what the mysterious Avengers 4 could be about, but one of the superhero stars may have just confirmed one of the most prominent fan theories about the upcoming movie. Eagle-eyed Marvel fans picked up on a few different clues about Avengers 4 in a recent post from Jeremy Renner, and they seem to confirm that an Avengers 4 theory about the original six Avengers could prove to be true.
One thing that we know for sure about Avengers 4 is that it will pick up immediately after the events of Avengers: Infinity War (in fact, the upcoming movie was originally billed as Infinity War: Part 2). So, it seems pretty clear that the new movie will focus on the heroes who survived Thanos' universe-decimating snap in their quest to save the heroes who disintegrated at the end of the movie. Obviously, the disintegrated heroes like Spider-Man, Black Panther, Doctor Strange, and the Guardians of the Galaxy have to come back to life somehow, since Marvel has already confirmed standalone sequels for nearly all of them in the future.
So, naturally, that leaves us with the surviving heroes to star in Avengers 4. In case you need a refresher of which heroes survived Thanos' snap, they are as follows: Iron Man, Thor, Captain America, Black Widow, Hulk, Rocket Raccoon, War Machine, Okoye, and M'Baku. Although not present in Infinity War, we also know that Hawkeye will return for the new movie, and the post-credits scene made clear that Captain Marvel will also join the team of survivors.
Do you notice anything about that group of heroes? As many Marvel fans have pointed out, it looks like Avengers 4 will center on the original six Avengers: Iron Man, Captain America, Thor, Hulk, Black Widow, and Hawkeye. And Jeremy Renner seemed to confirm this theory in his latest social media post:
In his hashtags, Renner seems to suggest that Avengers 4 will delve deeper into Hawkeye and Black Widow's shared history (which was heavily hinted at in the first Avengers), but most interestingly, the #A6 hashtag seems to confirm that the original six Avengers will once again be at the center of the new movie. Each of those six actors even got an "A6" tattoo to show how important that team is to them.
While this original re-team-up will be a welcome blast from the past for Marvel fans, there is also a chance that this could be the last hoorah for these OG heroes. Another part of this theory is that Avengers 4 will be all about these original Avengers because it will end in them passing the torch to the new group of heroes. There has been talk about Chris Evans, Robert Downey Jr., and other Avengers stars hanging up their supersuits for a while now, and it is starting to look like Avengers 4 may be the ideal time for the original team to say goodbye.
We will have to wait and see if Avengers 4 really is an Avengers send-off movie or not when it hits theaters on May 3, 2019.