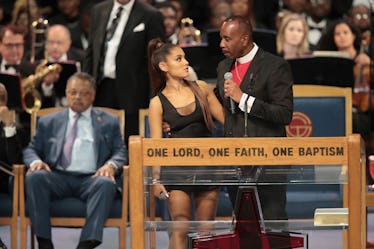 The Pastor At Aretha Franklin's Funeral Made The Funniest Joke About Ariana Grande
Scott Olson/Getty Images News/Getty Images
Ariana Grande delivered quite a moving performance for Aretha Franklin's funeral, paying tribute to the iconic Queen of Soul by singing "(You Make Me Feel Like) A Natural Woman" on Aug. 31. It was absolutely beautiful, and after her performance, many stood up to applaud the young singer for her gorgeous rendition of the hit song originally sung by the late Aretha Franklin. But before she walked off the stage, the master of ceremonies invited her back to the podium, and, alongside showing her some respect, he actually said something pretty hilarious. And let me tell you, this Ariana Grande joke at Aretha Franklin's funeral is actually blowing up Twitter right now.
Before we get into jokes, though, it should be noted that Grande's performance was, in my opinion, a really perfect tribute to Franklin, and towards the end of her time on stage, Grande said, "We love you, Aretha!" I think I speak on behalf of everyone that no truer words have ever been said.
So, now that we've gotten that out of the way, let's get to the slightly happier portion of the event — and it involves one of the most prominent pop artists being mistaken for a fast food menu item.
While standing with Grande, Bishop Charles H. Ellis III, the master of ceremonies said, "When I saw Ariana Grande at the program, I thought that was a new something at Taco Bell. Girl, I gotta give you all your respect." Yes fam, he went there.
Twitter couldn't get enough of the one-liner:
Some immediately decided to joke about which "Grande" meal they'd be ordering at Taco Bell:
Not going to lie: Taco Bell better get on this sh*t quick, because it would spread like wildfire, and everyone would go get a meal solely for the 'Gram.
Regardless of the ridiculously funny joke, it was evident that Ariana Grande was honored to perform at the funeral after Franklin's family asked her to sing. On Aug. 16, the same day that Aretha Franklin died after battling advanced pancreatic cancer, Grande talked with Jimmy Fallon on The Tonight Show about meeting Aretha Franklin.
Grande told Fallon, "I met her a few times. We sang at the White House and she was so sweet and she was so cute, and I was like, 'How are you a real person?'" She also added, "It's an honor to have met her."
She also recalled the story of the one time she got a call from Aretha Franklin (more phone calls than any of us have ever gotten from the Queen of Soul, so don't even think of minimizing that number), when Franklin asked her to listen to her family member's music:
It's obvious that the world has suffered a devastating loss of such an important musical icon, but it should be noted that so many young artists have nothing but respect and honor for someone who truly helped to mold the musical world that exists today.
Let's remember Aretha Franklin by allowing her music to continue to play through our speakers, and to pass down her legendary songs generation after generation.